Tattoo Removal: What Options Can Plastic Surgery Offer?
Jenn Fusion | January 11, 2017 | Posted in
Skin Care
Nearly a quarter of Americans have tattoos these days. Yet, an increasing number of people want to have their tattoos removed for a variety of reasons. Laser technology is better than ever, but it's not the only option.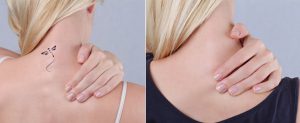 Surgical tattoo removal
Dr. Thomas W. Loeb, a board-certified plastic surgeon in Manhattan, performs tattoo removal surgeries for patients with smaller unwanted tattoos. "It's a very precise method of extracting a poor tattoo," says Dr. Loeb. "The benefit is that we do it just once, and then you heal — as opposed to laser, which could take five to 10 sessions."
Prior to the procedure, patients meet with Dr. Loeb for a medical exam and consultation, where he goes over the risks and realistic expectations for results. Patients need to avoid sun exposure for several weeks, avoid taking blood-thinning medications like aspirin or ibuprofen, and quit smoking. The tattoo removal procedure is done under local anesthesia in his Manhattan office. The skin will feel sunburned and tight after the surgery. Patients are directed to use a moisturizing cream and avoid the sun to prevent scarring. Healing generally takes place within two months.
Possible but minimal risks include skin discoloration, lack of complete pigment removal and some scarring.
What About laser tattoo removal?
Laser tattoo removal systems have greatly improved over the last decade. The beam of light hones in on a particular pigment and breaks the ink down into particles the body can absorb. It is important to choose the right practitioner, as using the wrong devices or ranges can cause significant scarring and fail to completely remove the tattoo.
The treatment itself is no walk in the park. Each color needs its own laser, and some shades are still difficult to remove – reds, in particular. One to three sessions may remove a small, newer tattoo with one color of ink. However, more elaborate tattoos could take up to 10 sessions, spaced at least a week apart. Patients need to care for the burned skin with antibiotic ointment, bandages and sunscreen.
Kelly Osbourne described the burning feeling of laser tattoo removal as akin to "the snap of 1,000 rubber bands!" Others have said it feels like "being splattered with hot grease". Even so, some people say it's worth the pain to get rid of the permanent blemish on their body.
Dermabrasion tattoo removal
Dermabrasion is another technique used to remove tattoos in a method similar to sanding. After applying a topical cryogen, a high-speed rotary device gently removes the top surface layer of the skin. Antibiotic ointment is placed on the treated skin to reduce the likelihood of scarring. Some tattoos may disappear completely, but the results are generally not as effective as laser or surgical removal.
Tattoo removal in NYC
The best way to choose the option that's right for your particular tattoo is to contact Dr. Thomas W. Loeb for a consultation. He offers a wide range of different options to best suit your individual needs.