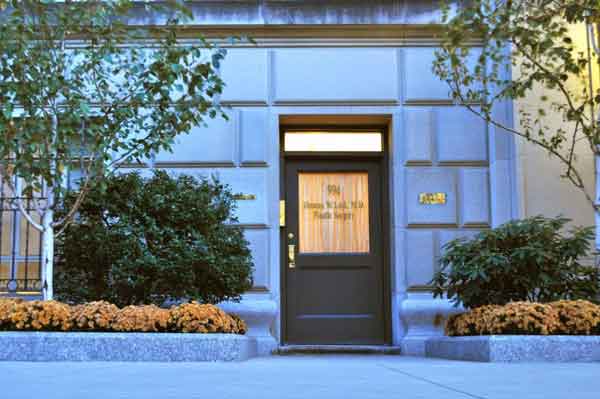 Board-certified plastic surgeon, Dr. Loeb prioritizes patient care and safety, and our spa-like environment offers a soothing, calming ambiance. You can trust that you're in good hands, as Dr. Loeb has over 30 years of clinical experience and a proven track record of artistic, natural-looking results.
Your appearance can significantly impact your self-confidence and sense of well-being. At the plastic surgery office of Dr. Thomas Loeb, MD, PC, we specialize in helping our patients achieve a younger, rejuvenated look through cosmetic surgeries and minimally invasive or non-invasive cosmetic treatments.
With two locations in the New York City area to serve you, our plastic surgery practice is your partner in self-care. Visit us at our Manhattan or Great Neck, Long Island offices for your confidential consultation.
Manhattan Office
Our flagship plastic surgery office in Manhattan is located in the beautiful heart of New York City on Fifth Avenue, right across from the Metropolitan Museum of Art and Central Park.
If you're visiting us from out of town, you may want to arrive a day early to take in the iconic NYC sights. When you're ready to head over to our office, you'll find us at:
994 Fifth Avenue
New York, NY 10028
Phone: 212-327-3700
Fax: 212-327-4506
[email protected]
Dr. Loeb has trained at some of the most prestigious institutions in New York. He has privileges at New York Hospital in Queens and North Shore University Hospital in Long Island.
As a plastic surgeon in New York, Dr. Loeb performs a broad range of surgical and minimally invasive procedures. Our top five most popular procedures are:
When you're ready to transform your appearance and reclaim your self-confidence, contact our facelift surgeon in Manhattan.
Great Neck Office
If you're in the Long Island area, you're invited to visit Dr. Loeb at our Great Neck office. You'll find us located on the North Shore of Long Island, situated in a charming village that offers plenty of privacy for our discerning patients.
Our Great Neck plastic surgery office is located near Whitney Lake and the Manhasset Valley Park:
1000 Northern Boulevard 
Suite 340 
Great Neck, NY 11021
Phone: 516-487-3134 
Dr. Loeb's Advanced Training and Surgical Expertise
Throughout Dr. Loeb's accomplished career, he has developed a reputation for clinical excellence and exceptional artistry. He is often called upon to perform revision surgeries for patients who did not achieve satisfying results elsewhere.
Dr. Loeb graduated from the Washington University School of Medicine with his medical degree in 1980, receiving high honors in medicine and surgery. He then went on to complete extensive post-graduate training at some of the most prestigious hospitals in the country, including:
New York University/Bellevue
New York University/New York Hospital Queens
Baylor College of Medicine
New England Baptist Hospital
Dr. Loeb has been board-certified by the American Board of Plastic Surgery. He emphasizes continuing professional development and is on the faculty as a clinical instructor in plastic surgery at Cornell University.
Schedule a Confidential Consultation Today
Dr. Thomas Loeb looks forward to meeting with you and discussing your aesthetic goals. Schedule your confidential consultation today at our luxurious Manhattan or Great Neck locations.