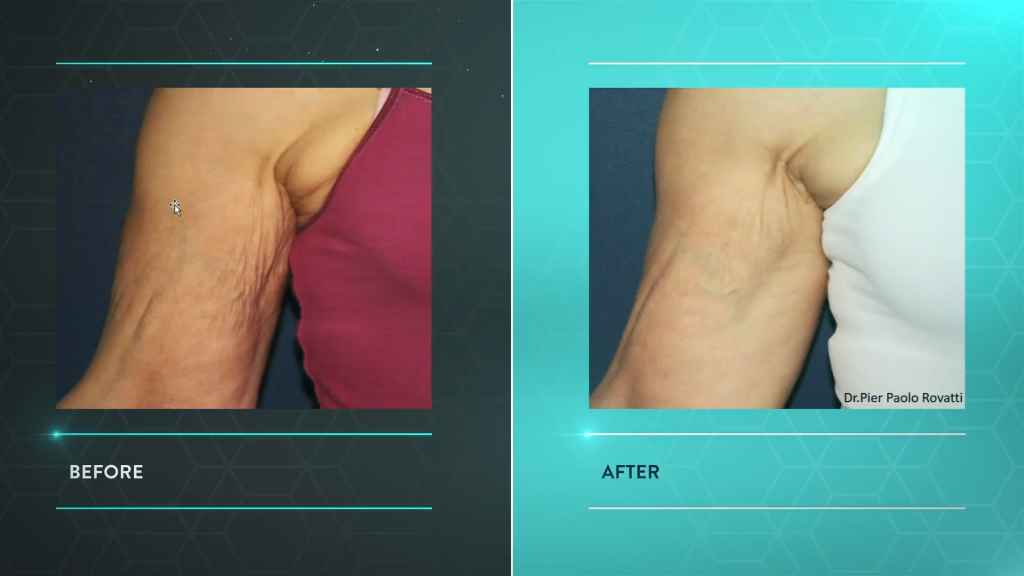 Dr. Thomas W. Loeb is pleased to offer one of the newest facial contouring procedures for New Yorkers who want to look and feel years younger. Available since 2019, Morpheus8 treatment has gained popularity as a solution to lower face and neck wrinkles, discoloration, and acne scars. It can also be used on the knees, thighs, and abdomen to reduce the appearance of lumpy skin.
What is Morpheus8?
With Morpheus8, individuals receive a combination of microneedling and fractional radiofrequency resurfacing. Unlike other types of microneedling, the Morpheus8 device penetrates deeper into the adipose layer of skin to stimulate collagen production and the body's natural anti-aging processes. It is widely considered one of the best non-invasive skin tightening treatments currently on the market.
What is Morpheus8 Treatment Like?
This safe, minimally invasive treatment can be completed in 15 to 60 minutes under localized anesthesia. Patient downtime is very minimal. Micro-lesions and some redness can be expected for up to a week. However, makeup may be applied within 1-2 days to minimize the effects. Patients are advised to moisturize the treatment area and avoid direct sunlight immediately after the procedure.
When Are Morpheus8 Results Visible?
Visible results can be seen within a few days as mild swelling subsides, with the most noticeable results occurring at the three-week mark. Some patients require up to three sessions to achieve maximum improvement, typically spaced four to six weeks apart. It can take new collagen up to six months to form, so patients may continue to see improvements month after month.
How Long Does Morpheus8 Last?
Morpheus8 results last at least one year, with up to three years of noticeable improvement. Annual treatments will keep collagen production ramped up and provide continuous improvement. It lasts twice as long as other forms of microneedling. Individuals may consider combining it with another procedure like a mini-lift or full surgical facelift to achieve tone and texture enhancements along with more significant tightening and results that last 10 years or more.
Morpheus8 Benefits
Morpheus8 offers busy New Yorkers numerous advantages:
It's safe and effective. The fractionated RF energy used is scientifically proven to reduce wrinkles and rebuild collagen, improving skin complexion and texture. Whereas traditional microneedling involves no energy usage, fat destruction, or remodeling whatsoever, Morpheus8 elevates the skin's appearance to a new level.
It's non-invasive. For patients with less severe issues, Morpheus8 non-invasive body contouring is an excellent alternative to a facelift, neck lift, tummy tuck, or thighplasty. Since the treatment is applied using energy and needles rather than scalpels and stitches, the risks and recovery time are negligible.
There's virtually no downtime. Other types of RF micro-needling (like Profound) do not penetrate as deeply, so they can cause significant surface-level pain, redness, swelling, and downtime for several days. Morpheus8 treatment is applied so deeply; there is minimal damage to the skin's surface and virtually no downtime. Makeup can conceal all evidence of treatment within a day or two.
It's quicker. Comparable devices like the AgnesRF involve single needle protocols, which accomplish the same feat as the Morpheus8 but are much more painful, tedious, and time-consuming for patients.
It lasts longer. Morpheus8 results last longer than Botox, laser resurfacing, and other forms of microneedling. Patients would have to invest in a facelift for longer-lasting results.
It's versatile. Morpheus8 can be used on all skin types, including darker tones.
It complements other treatments. Patients can combine Morpheus8 with a facelift or other procedures if necessary, often within the same session, to achieve the most beautiful and long-lasting results.
Patients love it. RealSelf listed Morpheus8 as one of the "Top Emerging Cosmetic Treatment Brands of 2019," with 97% of patients declaring their sessions "worth it."
How Much Does Morpheus8 Treatment Cost?
The cost of Morpheus8 treatment in NYC depends upon the areas being treated and how many sessions are needed.
A full-face treatment can cost $1,200 for one session or $3,000 for three sessions at a discounted rate.
The face and neck can be treated for $1,250 (one session) to $3,500 (three sessions).
Chest and scars treatment runs $500 a session or $1,300 for three.
Stretch marks can be treated for $700 to $1,700.
Extreme cases of hyperhidrosis are treated across four sessions for $2,400.
Given the effectiveness and durability of the product, most people experience hundreds of dollars in savings over quarterly Botox injections.
Morpheus8 in NYC
The best way to know for sure if the procedure is right for you is to schedule a consultation with Dr. Thomas W. Loeb, MD, in his Manhattan office. We are happy to provide you with testimonials, as well as Morpheus8 "before" and "after" photos, to aid in your decision-making. Dr. Loeb offers several alternate and complementary treatments, so you are assured of the best results.