Teen Rhinoplasty – Natural Results, Enhanced Self-Esteem
Every year, about 64,000 teenagers undergo plastic surgery. Teen rhinoplasty remains the most popular cosmetic surgery for patients ages 13-19.
"Personally I love doing teen rhinoplasties," says Dr. Thomas W. Loeb, a NYC plastic surgeon with offices in Manhattan and Great Neck on Long Island. "Rhinoplasty changes teenagers' lives, and how they feel about themselves… it's exciting to be a part of that growth in self-esteem," he adds.
In this video, you'll see the beautiful artistry and the natural results achieved through Dr. Loeb's work:
Before and After Photos
The best way to know if a plastic surgeon is right for you or your child is to visit a prospective surgeon's office for a no-obligation consultation to explore the possibilities. Dr. Loeb's office is equipped with advanced computer software that can show you what results might be achieved. He is also happy to show you the "before and after" photographs of actual work he has done.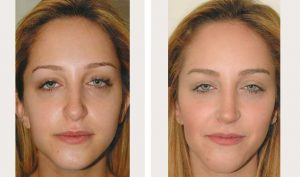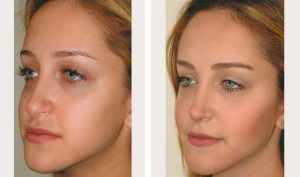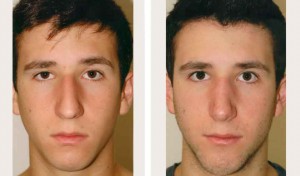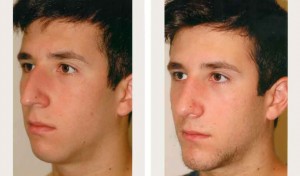 Click for more before and after photos 
Types of Teen Rhinoplasty
There are many ways to approach this procedure, depending on the individual. Common teen nose jobs include:
Reshaping the tip of the nose or removing a hump
Straightening the bridge and correcting abnormal bumps
Decreasing or increasing the size of the nostrils and opening breathing passages
Fixing a deviated septum or other damage done by injury
Increasing or reducing the size of the nose to match facial proportions
Teen Cosmetic Surgery Changes Lives For The Better
The ideal result, says Dr. Loeb, is "very natural, doesn't draw a lot of attention, and allows their other attractive features — such as shapely cheekbones, bright eyes, or a beautiful smile – to be noticed."
A 2000 article published in the Journal of Pediatric Adolescent Gynecology highlighted the fact that "puberty stands out as a particularly sensitive time as the teenager undergoes major changes in his or her physical appearance, and does this at a time of heightened vulnerability to the opinion of others."
Their research concluded that "Plastic surgery to correct a truly unattractive feature is enormously successful and remarkably free of conflict in this population." Following the procedures, teens undergo a "rapid reorganization of their self-image," the scientists noted, with positive changes in behavior and interpersonal interactions.
"A new nose restores balance to the face and dramatically impacts a young person's self-esteem and self-confidence," Dr. Loeb explains. "You can just see the light go on inside the teenagers' eyes when they come back in for their follow-ups. It's remarkable."
Special Considerations For Teen Plastic Surgery
What Is The Ideal Age For A Teen Nose Job?
Dr. Loeb has consulted with teenagers as young as 13, but he recommends waiting until the nose has reached at least 90% of its adult size – usually around age 14 or 15 for girls and 16 for boys. "There are more extreme cases where it's obvious there is something structurally wrong that requires correction," Dr. Loeb explains. For some students, it makes sense to have the work done in the summer before high school to receive a truly fresh start with a new group of classmates. "I will never steer a patient to surgery if I'm not 100% confident we'll have success," Dr. Loeb adds.
Should Teenagers Have Rhinoplasty Done?
Emotional maturity is a crucial consideration for patient selection, particularly among teenagers. There is a lot of pressure due to social media and misconceptions that cosmetic surgery is an overnight fix for all life's problems. Dr. Loeb makes sure all patients understand the risks involved, and questions them to understand the underlying motivations for wanting rhinoplasty, so patients have realistic expectations about the procedure.
Red flags that a teenager may not be ready for nose surgery include:
The desire for rhinoplasty to look or be like a favorite celebrity
Hopes that a new nose will help a shy student "talk to others," "fit in," and "be liked" at school
Motivation to seek surgery after a failed relationship
Belief that a new nose will help with college admissions or career advancement
The inability to pinpoint what specific aspects of the nose should be changed
Past history or characteristics of Body Dysmorphic Disorder and depression
In some cases, patients may be referred for psychological evaluations prior to receiving clearance for rhinoplasty. "It's better to err on the side of caution than to have someone come back years later with regrets," Dr. Loeb clarifies.
The Procedure
There are various techniques used to correct a patient's nose, which Dr. Loeb will discuss in great detail prior to the surgery date. Most procedures can be done on an outpatient basis under local or general anesthesia. Incisions are typically made inside the nostrils to avoid scarring. Patients who need a cartilage graft may require incisions around the base of the nose that can easily be hidden in the natural folds of the nose. Tiny cameras and precise micro instrumentation is inserted in through the nostrils to remove bony humps and excess cartilage, or reposition and reshape cartilage and bone. A patients' own cartilage may be added to support the structure of the new nose.
Risks of Rhinoplasty
As with any surgery, there are risks of adverse bleeding, infection, and allergic reaction to anesthesia. Patients may experience some numbness, nosebleeds, burst capillaries, swelling, and bruising during the recovery period. In rare instances, permanent nerve damage or the need for a subsequent operation are possible.
Teen Revision Rhinoplasty
Revisions are not typically done prior to the one-year anniversary of the original surgery. As an experienced board-certified plastic surgeon known for his skillful rhinoplasties in particular, Dr. Loeb possesses experience in revision surgeries in patients who have gone elsewhere for their rhinoplasties and ended up dissatisfied.
Teen Nose Job Recovery
Once the procedure is done, the small openings are closed and light nasal packing is put into the nostrils, which should remain in place until the following day. An external cast splint is left on for approximately one week to protect the healing structures. Most people do not report significant pain after a nose job. The first week of recovery has been compared to "having a mild cold." It may take some time to adjust to breathing through the mouth. Fatigue from the anesthesia and the healing process is common for the first few days.
Patients can expect significant bruising and swelling around the eyes for at least the first four to five days – or, in some cases, for up to two weeks. It is important to rest in an upright position to minimize swelling. Cold compresses may help reduce inflammation and discomfort.
Patients are instructed to:
Wear button-down shirts to avoid bumping the nose
Abstain from blowing the nose for 2-4 weeks
Avoid strenuous activities for at least 3 weeks
Take baths instead of showers while the bandages are in place
Stay out of tanning beds and the sun (or use a high SPF) initially to avoid scarring
Most teens are able to return to school and/or work after two weeks of rhinoplasty recovery. Most people are satisfied with the look of their new noses at the two-month mark, but it could take up to a year for the final "clinical" results to be evident.
Contact the office of Dr. Thomas W. Loeb, MD to schedule a consultation.
Reviews
"I am extremely happy with the outcome of my rhinoplasty, it looks so natural that occasionally I forget that I had a procedure done. Dr. Loeb, his office staff and nurses are extremely kind and helpful, which meant a lot to me being a teen because not only did I have a lot of questions, I was also very very nervous. They were always available to answer any question and truly care about their patients."
– Jessica M. 

Additional resources