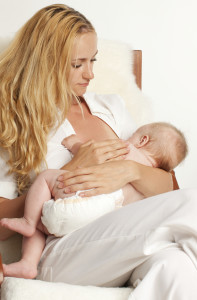 Pregnancy, childbirth and breastfeeding place huge physical demands on a woman's body. Women who are left with sagging bellies, stretched skin and deflated breasts are now able to reclaim their pre-baby physique with the help of targeted cosmetic surgery. Leading New York City plastic surgeon Dr. Thomas W. Loeb performs mommy makeovers in his Manhattan surgical suite. This combination of body contouring procedures offers excellent results, and has helped thousands of women restore their confidence along with their figures.
What is a mommy makeover?
A mommy makeover is a complementary set of plastic surgery procedures specifically designed to restore a woman's figure to its former glory after childbearing. Pregnancies take a tremendous toll on the breasts and abdomen, with some women experiencing more profound changes than others. Dr. Loeb tailors your surgical plan depending on individual areas of concern.
What does mommy makeover surgery include?
Every mommy makeover is unique, but the following are the most commonly performed procedures:
How much does a mommy makeover cost? 
For those who are wondering about the cost of post-pregnancy surgery, keep in mind that a mommy makeover price tag will vary from one surgeon to the next. Combining several procedures at once does offer savings on multiple anesthesia and surgeon fees. Mommy makeover specials usually include the three cornerstone procedures including liposuction, a tummy tuck and breast surgery (with or without implants).
How much is a mommy makeover?
Dr. Loeb strives to make plastic surgery attainable for all patients, especially young mothers who are yearning to restore their pre-baby figures. During a one-on-one consultation, prospective patients are given an outline of mommy makeover costs and possible financing options.
Mommy makeover before and after pictures
The best way to understand how this plastic surgery trio rejuvenates the breasts, abdomen and mid-section is to view pre and post-operative photos of other patients. Before and after mommy makeover pictures demonstrate Dr. Loeb's skill and expertise when it comes to achieving natural, beautiful results. Most patients say their only regret is not having a mommy makeover sooner.
Mommy makeover recovery
Recovery times will vary from one woman to the next, depending on the types of procedures chosen and whether abdominal and breast surgery were performed at the same time. For those who opted for the full mommy makeover package including a tummy tuck, expect at least four weeks of downtime along with moderate bruising and swelling. Rigorous physical activity should be avoided for 5-6 weeks. Within two months, most of the residual inflammation should have subsided revealing a svelte figure, perky breasts and fewer stretch marks.
What is the minimum recovery time for a mommy makeover?
Some patients are able to return to their desk jobs within 10-12 days of their mommy makeovers, though Dr. Loeb recommends allowing at least three weeks for proper healing and to reduce chances of post-operative complications.
Mommy makeover scars?
Breast lifts and abdominoplasty require surgical incisions that will leave scars. These gradually fade in color and intensity over a period of months and years. However, using advanced surgical techniques, Dr. Loeb is able to ensure scars are inconspicuous as possible, and recommends practices to promote quick healing. Tiny liposuction incisions heal without any noticeable scars, while tummy tuck scars are easily concealed beneath underwear and bikini bottoms.
Mommy makeover results
What are women saying about the results of their mommy makeovers? Beyond the obvious physical improvements to their bodies, women are thrilled with their newfound sense of sexiness and self-esteem. For more personal stories, take a look at mommy makeover reviews on Real Self, where women describe their concerns, experiences and surgical outcomes candidly.
If you're looking for a skilled mommy makeover surgeon, we invite you to call the Manhattan office of Dr. Thomas Loeb who can explain the benefits of combining surgeries for a post-pregnancy overhaul. It's time to regain your confidence and feel good about your body again! Please call 212-327-3700 or submit your appointment request online.
Mommy makeovers resources
Mommy makeover articles