Aesthetic Plastic Surgery in New York City
CLICK HERE TO SEE A VIRTUAL TOUR OF THE OFFICE
Project your inner beauty in a natural, subtly enhanced way with the masterful work of New York City Plastic surgeon Thomas W. Loeb, M.D. Dr. Loeb has made frequent appearances on Fox News, The View, ABC News, NBC News, EXTRA, Inside Edition, and the CBS Evening News. He has also received other accolades in print media including coverage by Elle, Vogue and Glamour magazines. Internationally rated as one of the top 10 best eye surgeons in the world, he has also been recognized as one of the Best Doctors in New York by New York Magazine.
Dr. Loeb's plastic surgery practice encompasses a wide range of procedures, from the most beautiful before and after nose jobs in NYC to spectacular and natural breast enhancement and augmentation, to non-invasive skin rejuvenation and injectables. With a skillful hand and a sensitive ear, he is able to meet the goals of his patients and exceed their expectations.
Feel Naturally Beautiful Inside and Out
Though New York plastic surgeon Dr. Loeb has a renowned international reputation for his high profile Paula Jones rhinoplasty in 1998, he is equally respected for his artistry in other types of facial cosmetic procedures including:
Blepharoplasty (eyelid surgery)
Ear reshaping (Otoplasty)
Cheek and chin augmentation (implants)
Face lift
Neck, Mini, & short-scar lifts
Face & neck liposuction
Thread lifts
Women who are interested in breast augmentation (he has helped over 1,000 patients) can trust Dr. Loeb to provide the best advice and deliver a natural, beautiful result. Whether you desire a breast lift (mastopexy), breast reduction, inverted nipple correction, or breast reconstruction- Dr. Loeb can help give you not only the contour, but also the confidence that breast enhancement is known to provide. Men seeking correction for gynecomastia (male breast enlargement) are also welcome to consult with Dr. Loeb.
Dr. Loeb provides all manner of body contouring surgery in his NYC office. Patients may benefit from liposuction, tummy tuck (abdominoplasty), as well as arm, thigh, and butt lift procedures, all in the privacy and comfort of his private Fifth Avenue surgical suite.
Anti-aging skin care treatments in NYC are in a constant state of improvement as technology allows plastic surgeons in Manhattan to achieve an unprecedented level of facial rejuvenation. Dr. Loeb has always been committed to staying on the very cutting edge of these procedures and offers the most current skin treatments available today. Some of the most popular non-surgical procedures include: Botox & Dysport Injections, Juvederm, Radiesse, Sculptra & Restylane, Fractora & Fractora Firm, Laser resurfacing, and Photo facials.
Thomas Loeb, MD – New York Plastic Surgeon With Credentials
Dr. Loeb completed his formal education at Washington University School of Medicine of St. Louis in 1980 and completed his General Surgery Chief Residency at the New York University and it's Affiliates in 1984. He completed his Plastic Surgery residency at Baylor College of Medicine in 1986. After extensive formal training, Dr. Loeb obtained his board certification in plastic surgery from the American Board of Plastic Surgeons in 1988. Dr. Loeb has been in private practice in New York City for more than two decades. Dr. Loeb is fully committed to research and pioneering the latest advances in medicine. He is a clinical instructor at Cornell University Medical College, in addition to participating in numerous teaching programs at hospitals throughout NYC and Long Island.
Enjoy Having Plastic Surgery in New York
Our beautiful Fifth Avenue office has been fully accredited by the American Association for Accreditation of Ambulatory Facilities. The ease of scheduling and cleanliness of our office environment is rated well above the national average. We know New Yorkers have tight schedules and we aim to minimize the wait time of clients to less than 15 minutes. You will find our staff to be courteous and friendly at all times. In fact, the staff members are very much like family. One of two anesthesiologists has been with Dr. Loeb for more than 18 years; one scrub nurse is a 27-year veteran, and our office manager has been overseeing the practice for over 20 years and the chief receptionist with Dr. Loeb over 16 years. We offer a private nurse in the event you require a post-op overnight stay who will make sure you have everything you need to remain comfortable and heal.
It is our primary goal to ensure that you receive only the highest level of professionalism and expertise throughout every step of this adventure. We invite you to learn more about plastic surgery in New York by calling Dr. Loeb's office at 212-327-3700.
Featured Media – Instagram Review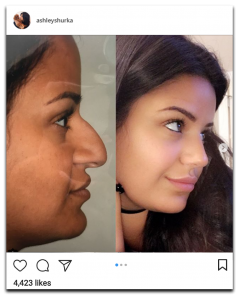 "I went to Dr. Thomas Loeb… I had an amazing experience & I couldn't be happier with my results! He did exactly what I imagined… I wouldn't change a thing about my nose thanks to him. I highly recommend Dr. Loeb!"
Ashley Shurka (@ashleyshurka)