Considering breast plastic surgery? Any number of factors from genetics to aging, pregnancy to weight loss influence the size and shape of your breasts. If you are unhappy with the hand nature has dealt in this area, and would like to perfect your own, natural shape, NYC-based plastic surgeon Dr. Loeb offers a wide range of solutions tailored to your individual needs. His sharp eye and unparalleled aesthetic can help reveal the curves you have always desired.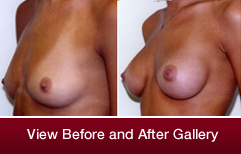 Breast plastic surgery refining procedures provided:
Breast Augmentation
Women may choose breast augmentation, also referred to as breast enlargement or breast implants, for a variety of reasons. They may want to increase the size of their breasts, create a more balanced appearance between uneven or disproportionately sized breasts, or restore lost volume due to breastfeeding, age, or substantial weight loss. Dr. Loeb may also perform the procedure on patients who have had a breast removed due to a mastectomy. Either saline or silicone implants may be used, though silicone implants come in a wider variety of shapes and sizes and are more easily customized to fit each patient's unique body type and contours. Every case is different when it comes to breast enlargement, and during your one-on-one consultation Dr. Loeb in his New York City office, he will be sure to devise a plan of action based on your existing breast type, and on your expectations and wishes for the ultimate outcome. Women with looser skin, for example, may require bigger implants to look natural. In every case, Dr. Loeb will do everything possible to ensure that the end result looks as natural as possible.
Breast Lift
A breast lift, or mastopexy, is a surgical procedure that elevates and recontours sagging, loose-skinned breasts without effecting their overall volume. Afterwards, breasts that are more firm, shapely, and youthful looking. If the patient prefers, the size of the areola can be reduced, and the position of the nipples can be raised and centered. Dr. Loeb may suggest that a breast lift be performed in conjunction with breast enlargement or reduction in order to achieve your desired results. The procedure is usually recommended for women whose breasts, often due to breastfeeding or the aging process, have become flat and pendulous, or have otherwise lost their natural, taut figure.
Breast Reduction
Women may choose to reduce the size and volume of their breasts for many reasons, including to reduce health hazards and physical discomfort, as well as to make a cosmetic improvement in the appearance of their breasts. In some cases, women may feel overly self-conscious because of the conspicuousness of their larger-than-average breasts. Breasts of substantial volume may also make daily activities difficult, including exercising. Breast reduction surgery gives women the shapely, proportionate breasts they desire, while also restoring their youthful firmness. During the surgical procedure, Dr. Loeb removes excess breast tissue, fat, and skin. He also raises the nipple and underlying tissues to a new, higher position, all in accordance with preoperative markings. The incision used will extend vertically downward from the nipple to the breast crease. Scarring from breast reduction surgery may take many months to settle and begin to fade.
Get to Know Your Breast Option
If you are considering breast plastic surgery in New York City, or other cosmetic surgery procedure, we invite you to call our office on Fifth Avenue in Manhattan at 212-327-3700 to schedule a private consultation with Dr. Loeb.