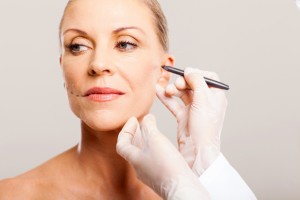 Dr. Thomas Loeb is among the leading plastic surgeons in Manhattan, earning kudos throughout the years for his facelifts and other cosmetic procedures.  
A facelift is a surgical procedure that can turn back the clock on the aging process by tightening and repositioning skin and soft tissue to restore a more youthful appearance. Age, sun exposure, stress, and heredity all take their toll on your skin. This procedure successfully counteracts these effects, and results may be customized to your specific expectations and needs. 
What to know before having a facelift
In your private consultation with NYC plastic surgeon Dr. Loeb, you will discuss your expectations for this procedure. Dr. Loeb will consider your reasons for wanting to have it done, carefully explain the process to you, and answer any questions you might have. A thorough medical history will also be taken at this time to ensure that you do not have any underlying medical conditions that could affect the outcome of your procedure.
Facelift surgery is typically recommended for the following concerns:
Sagging in the middle of the face or around the jawline
Creases below the eyes or from the nose to the mouth
Fat deposits and excess skin below the chin and jawline
Loss of muscle tone in the lower portion of the face
This procedure is primarily used to address issues in the lower part of the face; problems like crow's feet in the corners of the eyes, frown lines between the eyebrows, and forehead creases may be better addressed through other cosmetic surgical procedures.
Face lift procedure
Dr. Loeb generally performs surgery in own private surgical suite, located on the Upper East Side of New York City. Patients are placed under anesthesia with sedation.
An incision is made at the temple, which circles around the ear, to minimize the amount of scarring that will be visible after the procedure. There are many variations (short scar, mini lifts, S-lift) on the incision which varies on the individual needs of the patient. Skin is lifted across the cheeks from the jawline. Muscles and soft tissue underneath are readjusted, and excess skin is removed. Dr. Loeb takes great care throughout the procedure to ensure that the final result is a soft, elevated look that is never taut or artificial looking. The entire procedure may take two to three hours to complete, depending on the specific procedure to be performed.
During your procedure, the surgeon will likely use a fibrin sealant to lessen bruising and fuse together tissue layers. This material is made from donor blood plasma that has been carefully screened and treated. Fibrin sealant has been used safely in various surgeries for years.
If you requested additional cosmetic procedures, they may also be performed at this time.
Recovery
After your surgery, a bandage will be applied to the surgical site to minimize bleeding and swelling; there are no drains. When you are released, you will be given a full set of post-operative instructions that explain how to care for the incision and recover from the procedure. Patients who carefully follow all post-operative instructions tend to have the fastest recovery from this procedure and the best outcome. Swelling and bruising may persist around the surgical site for up to three weeks. You may feel a degree of soreness, which can be managed through pain medication. Numbness is another common symptom after surgery, which could last up to six months. You will be advised to avoid strenuous activity for at least three weeks, although most patients are able to return to work within 10 days to two weeks, depending on the type of job.
In the months following the surgery, your appearance will continue to improve. It may take a number of months before you see the full results of your surgery. Many patients never require a second procedure, though some choose to have another surgery anywhere from 10 to 15 years later.
Potential risks
The risks of any surgery can include adverse reactions to the anesthesia, infection, swelling, and bleeding. There is also a small possibility that the facial nerves could be injured or that a hematoma, which is a collection of blood, will form under the skin. Additionally, patients who smoke may be at risk of delayed healing. Some of the other risks can include:
Scarring
Temporary hair loss at the incision site
Loss of skin
Persistent pain
Irregularities or asymmetry of the contours of skin
Skin discoloration, sensitivity, or numbness
Fat necrosis (death of fatty tissue)
Accumulation of fluids
Surfacing of sutures, causing irritation
Deep vein thrombosis
Cardiac or pulmonary complications
If you experience chest pains, shortness of breath, or irregular heartbeats, seek emergency medical help.
Related cosmetic procedures in NYC
This procedure may be combined with a number of additional cosmetic procedures, including blepharoplasty (eyelid surgery), rhinoplasty (nose job), or a neck lift. Liposuction may be used during surgery to remove excess pockets of fat from the treatment area. Dermal fillers may can minimize the appearance of fine lines and wrinkles not addressed by facial plastic surgery.
Any surgery is a serious undertaking, and it's important to choose your plastic surgeon wisely. Dr. Loeb is a board-certified plastic surgeon with an impeccable international reputation. He takes the utmost care in performing each surgery safely with attention to natural-looking results. If you are interested in learning more about having a facelift in New York City, please call the Fifth Avenue office at 212-327-3700 to schedule a private consultation with Dr. Loeb.