BodyTite is a minimally-invasive, nonsurgical treatment for men and women with unwanted fat deposits and lax skin in the chin, neck, abdomen, hips, knees, and thighs. It is particularly useful in attacking persistent "trouble spots" (like saddlebags or love handles) that have not responded to diet and exercise.

Chronic deposits of enlarged fat cells leftover from carrying a baby or lifelong struggles with obesity are not so easily dissolved. Board certified NYC plastic surgeon Dr. Thomas W. Loeb is pleased to offer a full suite of procedures, including BodyTite, that beautifully shape and contour the body to get an enhanced look without excessive downtime.
What is BodyTite?
BodyTite is one of the most advanced new treatments to sculpt the body without the need for invasive surgery. During the procedure, a silicone-coated, hollow Mercedes-tip suction cannula/electrode goes into the body through a small incision. The electrode delivers radiofrequency internally to break up precisely targeted fat cells, while the cannula gently suctions the liquefied and coagulated fat. Meanwhile, an external circular electrode slides along the surface of the skin to measure skin temperature and heat the dermis uniformly, thus aiding in collagen remodeling and preventing burns.
Check out these amazing results from BodyTite.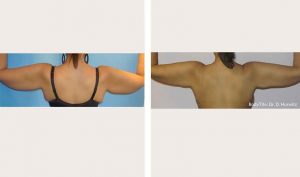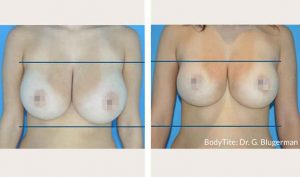 **Images displayed above are not patients of Dr. Loeb.
Is BodyTite liposuction?
BodyTite is a liposuction system much like SmartLipo, LipoSelection, and others. BodyTite liposuction uses radiofrequency waves to liquefy excess fat cells prior to removal. Compared to traditional liposuction techniques, there are fewer risks of lumps, bumps and other surface irregularities. Better results are obtained with RFAL due to the significant contraction of the skin and soft tissue that occurs – greater than 35%, compared to less than 8% for standard liposuction.
BodyTite reviews
Well-known celebrities like boxer Manny Pacquiao's wife Jinkee and Filippino beauty queen Ruffa Guitierrez have both admitted to undergoing BodyTite procedures to bounce back after having their children. Patients have almost uniformly expressed enthusiasm about the results in online reviews.
BodyTite patients have said:
"My clothes fit better now."
"I have a flat stomach and no muffin top."
"I went back to work after 4 days, feeling fine."
"It's given me huge confidence in my body again."
"I can wear the clothes I used to have 20 years ago."
"The treatment got rid of all my loose skin [after losing nearly 100 pounds]."
"I am getting married this year in a sleeveless dress, which is something I never would have done."
BodyTite before and after
During the early stages of healing, bruising, swelling and pain should decrease daily. It is common to feel some nodules near the treatment area. This is fat necrosis that typically resolves on its own with massage, warm compresses, and use of the provided compression garment. While individuals heal at different rates, the final results are generally evident in four to six months.
The best way to gauge whether a particular procedure is right for you is to look at before and after images of what BodyTite has done for others who share your physique. Individual patient results may vary, but here is a sample of what BodyTite technology has yielded for actual patients of Dr. Thomas Loeb MD in New York City: BodyTite before and after photos.
BodyTite cost
The cost of BodyTite ranges based on the amount of fat and number of areas to be treated. As with any liposuction procedure, BodyTite prices are based on:
Geographic location
Surgeon experience
Operating room fees
Lab tests ordered
Local anesthesia administered
Post-operative supplies
Discounts may be offered when you are looking at treating multiple zones and most surgeons offer in-house no-interest financing.
Finding BodyTite doctors in NYC
Though the procedure is deemed minimally invasive, it is not entirely without risk. In the wrong hands, patients are faced with persistent fat necrosis, lymphedema, infection, damage to underlying tissues, and unnatural swelling. Board-certified plastic surgeons, like Dr. Thomas W. Loeb MD, are specially trained in human anatomy and have been working with similar technology for decades. When used in the right setting by the right practitioner for the right patient, BodyTite results are beautiful and transformative. Contact Dr. Thomas W. Loeb in his Manhattan office at (212) 327-3700 for more information on BodyTite or other fat removal and body-sculpting methods.
More Body Tite resources
Journal of Medical Devices – Liposuction devices: technology update https://www.ncbi.nlm.nih.gov/pmc/articles/PMC4114741/
Real Self – BodyTite Lipo https://www.realself.com/question/bodytite-lipo
Inquirer – Ruffa's New Body, Courtesy of Jinkee http://lifestyle.inquirer.net/769/ruffa%E2%80%99s-new-body-%E2%80%93courtesy-of-jinkee/