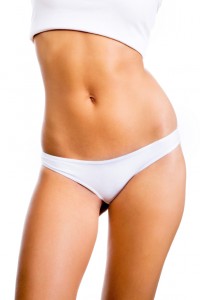 Cryolipolysis has revolutionized the field of body contouring forever, offering a safe, non-invasive fat reduction treatment. Banish stubborn bulges for good with this innovative fat-freezing technology, offered at the Manhattan plastic surgery office of Dr. Thomas W. Loeb.
What Is Cryolipolysis?
This cutting-edge fat destroying device was born out of a growing demand for effective yet non-surgical body sculpting treatments. Cryolipolysis is approved by the FDA for the treatment of localized fat deposits that lie just beneath the skin. An attractive alternative to liposuction, cryo freezing targets pockets of adipose cells which are crystallized and later eliminated by the body. Whether you're tired of a pot belly, wobbly thighs or pesky "love handles," this treatment delivers amazing results without scalpels, anesthesia or downtime.
Dr. Loeb often recommends cryolipolysis for patients who are within 15-20 pounds of their ideal body weight and are struggling to tone and tighten some problem areas. The demand for this body contouring treatment has increased dramatically among women who aren't ready for a tummy tuck but want their pre-baby abs back, and men bothered by extra rolls along the back and flanks.
Cryolipolysis: Does It Work?
Many patients ask, "How does the Cryolipolysis work?" The treatment uses controlled cooling to freeze and break down subcutaneous fat cells. Because fat cells freeze at higher temperatures, the skin, nerves and surrounding tissues are not damaged during the procedure. There is very little discomfort during the treatment, which lasts anywhere from 35-60 minutes depending on the number of areas being targeted.
First, a gel pad is placed over the area of concern before the cryolipolysis vacuum gently pulls the fatty bulge upward into the applicator where it is exposed to precisely regulated temperatures, which numb the area and produce an anesthetic effect. Some patients experience slight tugging sensation at the vacuum's pull, but this tends to resolve within a minute or two.
The cryo freezing procedure is painless, allowing patients to relax, read, catch up on work, or even take a nap during the session. In the following weeks and months, the body naturally metabolizes and flushes out the crystallized fat cells, revealing a slimmer and more contoured figure.
Cryo Fat Freezing for Stubborn Problem Areas
Cryolipolysis provides natural fat reduction for many areas of the body, including:
Abdomen
Hips
Thighs
Flanks/ Love Handles
Muffin Top
Back
Buttocks
Bra strap area
To achieve optimum results, cryo fat freezing therapy usually requires two to three sessions, though some patients may benefit from only one. Dr. Loeb will craft an individualized treatment plan in accordance with your current concerns and aesthetic goals.
Cryolipolysis vs. Coolsculpting
In the simplest of terms, cryolipolysis is the science behind CoolSculpting. "Cryo" means extremely cold and "lipolysis" means the breaking down of fat cells. Cryolipolysis is the cooling of fatty tissue to induce adipose cell death, thereby reducing body fat. CoolSculpting® uses licensed cryo technology and is patented by the medical technology company ZELTIQ.
Cryolipolysis before and after photos demonstrate the dramatic effects of this groundbreaking technology, with the average patient seeing a 20 percent reduction in fat after their first session.
Cryolipolysis Results
Cryolipolysis can reshape your body in a few short months, giving you the physique you wanted but could never achieve with diet and workouts alone. Many patients notice a positive difference within a few weeks of their first session, as the body processes and eliminates fat cells. The fat cells are not redistributed, which means that the body contouring results are long lasting as long as patients maintain a stable weight and healthy lifestyle.
Cryolipolysis Cost
Many factors will determine cryolipolysis cost, including the number of areas being treated, the skill and experience of your surgeon, and your geographical location. In some cases, having multiple body parts treated in one session can be less expensive. Sessions may range from $800 – $1,200 for a single treatment area. When compared to more invasive plastic surgery procedures like abdominoplasty or liposuction, cryo fat freezing is typically easier on the wallet, and there are fewer complications to worry about.
The best way to find out pricing is to come to Dr. Loeb's office for private consultation.
Non-surgical Fat Freezing that Works
Reducing fat in those trouble zones has never been easier. Men and women from all walks of life are thrilled with the body slimming results, which is why this technology has high satisfaction rates. Impressive shrinkage is just one of the benefits of this fat freezing treatment. Imagine slipping into your "skinny" jeans effortlessly or whittling down those saddle bags passed down from your mother. Clothes will fit better, and your self-esteem will get a major boost!
Cryolipolysis reviews are overwhelmingly positive because this non-invasive treatment:
Produces subtle, natural looking results
Involves no downtime – return to normal activities immediately
Delivers lasting results
Improves body shape and confidence
Dr. Thomas Loeb is a renowned board-certified plastic surgeon who provides the latest, clinically-proven body contouring treatments. Schedule a private consultation to learn more about fat loss with cryolipolysis. Dr. Loeb has offices in New York City and Great Neck, Long Island.
Additional Cryolipolysis Resources: