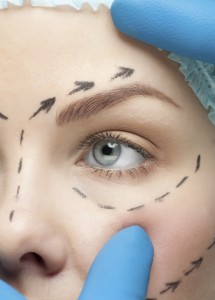 Blepharoplasty is one of the most popular facial plastic surgeries performed today. Also known as eyelid surgery, the procedure can address drooping upper eyelids and sagging or puffy lower lids that can lend a tired, ragged appearance, even after a good night's sleep. Blepharoplasty can address multiple issues around the eyes, opening them up and giving them a younger look.
Dr. Thomas Loeb performs eyelid surgery at his private suite on NYC's Upper East Side, taking special care to meet the aesthetic goals of his patients, while delivering a natural bright-eyed look.
What is an eye lift?
The majority of patients interested in blepharoplasty are 35 or older, an age when the skin's elasticity begins to decline. Although sometimes called an "eyelift" because of its rejuvenating effects, eyelid surgery actually removes extra skin and fatty deposits. The entire procedure takes from one to three hours to complete and can be performed using conscious sedation or general anesthesia.
Eyelid surgery may be recommended for patients with:
Heavy, loose skin that creates folds over the upper eyelid
Impaired vision from hooded upper lids
Under eye puffiness caused by fatty deposits
Bags under the eyes
Drooping lower lids
Fine wrinkles and excess skin of the lower eyelid
Upper eyelid surgery v. lower eyelid surgery
Blepharoplasty can be performed on the upper or the lower eyelids, or both at the same time. Patients who suffer from hooded or heavy-looking lids, a tired appearance, and drooping which impairs vision are often great candidates for upper eyelid surgery. Upper blepharoplasty uses tiny incisions in the crease of the upper lid to remove excess skin and small amounts of fat. A dissolvable suture is placed in the eyelid crease until the skin fully heals. The result is a smoother, rejuvenated look.
Lower eyelid surgery removes excess skin and dramatically improves the contours of the lid by removing fat (or in some cases, adding it). In some patients, laser skin resurfacing may be utilized to reduce the appearance of wrinkles or improve texture. In a lower blepharoplasty, incisions are either made inside of the eyelid, known as a transconjunctival approach, or just below the lash line. The transconjunctival method is often preferred as it leaves no visible scars and is ideal for men and women who have prominent fat pockets under the eyes.
Double eyelid surgery
An estimated 50 percent of the Asian population does not have a crease in the upper eye lids, which for some patients is an aesthetic and functional concern. For those who are born without this crease, a double eyelid surgery creates a natural-looking fold that opens up the eyes without leaving any visible scars. The procedure is often called "Asian eyelid surgery" and has become widely popular in South Korea, Taiwan and other East Asian countries. Because New York City is one of the world's largest multi-ethnic cities, Dr. Loeb's eyelid surgery patients hail from numerous cultural backgrounds.
Eyelid surgery before and after
An upper eyelid surgery can last more than seven years, while the results of lower eyelid surgery are generally permanent. Browsing before and after eyelid surgery photos are a great way for prospective patients to see the transformative yet beautifully natural results offered by Dr. Loeb, who has helped patients struggling with heavy lids, puffy bags, wrinkling and drooping skin. By carefully removing excess fat and skin and re-contouring the eyes, Dr. Loeb is able to produce a rested and rejuvenated appearance.
Eyelid surgery recovery
Eyelid surgery is performed on an outpatient basis, meaning that patients can return home on the same day under the care of a relative or friend. After eyelid surgery, patients usually experience tightness and/or slight irritation and swelling. The majority of bruising and swelling comes down within seven days. Pain relievers may be prescribed to ease discomfort, and lubricating eye drops will help diminish dryness and irritation. Some patients find relief from cold compresses used throughout the healing process. During the first week of recovery, patients should refrain from watching television, using the computer for extended periods of time and wearing contact lenses. For the first two weeks post-op, stay out of the direct sun and avoid windy areas. Most patients are back to their usual routine by this time, but it will take several weeks before the eyes are fully healed and inflammation has completely subsided.
Patients will begin to see the positive results of the surgery after one month, as scars begin to lighten and the eyes are more open and refreshed.
Blepharoplasty risks
There are potential risks with any type of facial plastic surgery and blepharoplasty is no different. Since eyelid surgery is relatively minor, serious complications are rare. Eyelid surgery risks and complications may include:
Anesthesia reactions
Infection
Dry eyes
Blurred vision
Ectropion, an outward rolling of the eyelid
Bleeding
Scarring
Pain
Poor wound healing
Swelling
Skin discoloration around the eyelids
Inability to fully close eyes
Sensitivity to sunlight
Temporary or permanent changes in vision
Dr. Loeb will thoroughly outline all blepharoplasty risks prior to the surgery, and is available to discuss any post-operative concerns should they arise. Closely following your surgeon's instructions reduces the potential for adverse effects.
Eyelid surgery cost
Patients who are concerned about eyelid lift cost are encouraged to ask about payment plans and financing options offered by their plastic surgeon. According to 2014 statistics by the American Society of Plastic Surgeons, the average eye lift cost is just under $3,000. However, this figure may increase or decrease depending on the type of anesthesia used, if a dual blepharoplasty is performed, and the location of your plastic surgeon.
Choose an eyelid surgeon NYC trusts
Dr. Loeb is among the leading Manhattan plastic surgeons performing blepharoplasty, using his keen aesthetic sense to give patients a result that looks natural and refreshed. His state-of-the-art surgical suite on Fifth Avenue offers a private and luxurious setting for pre-op consultations and surgery.
To learn more about eyelid surgery with Dr. Loeb, please call 212-327-3700 to arrange a private consultation today.
Eye lift surgery resources
ASPS, What is eyelid surgery? http://www.plasticsurgery.org/cosmetic-procedures/eyelid-surgery.html
Real Self, Eyelid Surgery https://www.realself.com/Eyelid-Surgery/reviews
American Academy of Facial Plastic Surgery, Eyelid Surgery http://www.aafprs.org/patient/procedures/blepharoplasty.html
Medicine.net, Eyelid Surgery (Blepharoplasty) http://www.medicinenet.com/blepharoplasty__eyelid_surgery/article.htm
WebMD, Eyelid Surgery http://www.medicinenet.com/blepharoplasty__eyelid_surgery/article.htm
Related eyelid lift articles