What Is Done In A Mini Face Lift?
Ryan Green | May 24, 2019 | Posted in
Facelift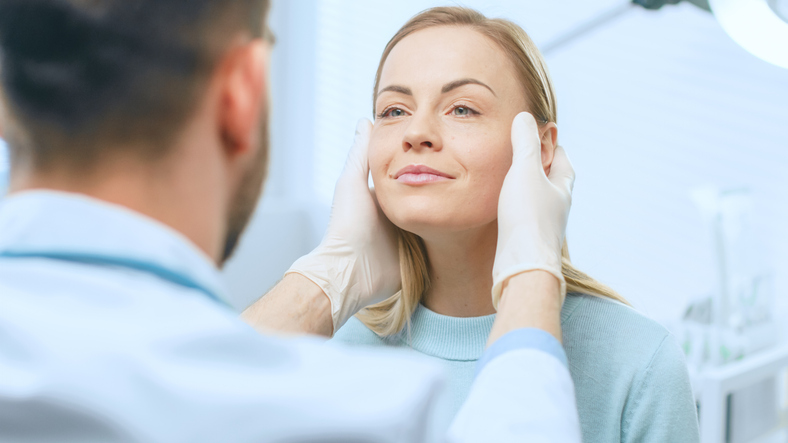 Face lift surgery is the most powerful weapon against facial aging. In the past, the procedure merely tightened sagging skin, but modern advances allow repositioning of muscles and fat as well. The primary goal of a face lift is to remedy laxity in the lower face and neck – droopy cheeks, weak jawlines, and banded necks, mostly.
Additional bonuses of a face lift may include reduced prominence of marionette lines, and better contouring of flattened cheeks, but other procedures may be necessary to correct brown spots, crow's feet, eyebrow furrows, nasolabial folds, and other imperfections.
The singular term "face lift" is misleading, as there are multiple types of face lifts that can be done, varying in the level of invasiveness. The mini face lift is one of the more popular procedures done by Dr. Thomas Loeb.
What Is Done In A Mini Face Lift?
During a mini face lift procedure:
Short incisions are made in front of the ears and beneath the hair line (if necessary).
The surgeon removes excess fat tissue and recontours.
The surgeon tightens the skin around the cheeks for a smoother look.
End result? Mild to moderate skin laxity is subtly corrected in the neck and jowl areas.
While full face lifts often include other procedures like brow, eye, or neck lifts, a mini face lift is typically done as a standalone procedure or alongside non-surgical, injectable enhancements like Botox or dermal fillers.
Benefits of a Mini Face Lift
Subtle, natural beauty that leaves you looking youthful and refreshed.
Shorter recovery time (3 to 7 days back to work vs. four to five weeks).
Minimal pain and swelling (versus pain and swelling that takes several weeks to resolve).
Use of local "twilight" anesthesia, rather than general (reduced risk of nausea, vomiting, dry throat).
Lower risk of complications (like infection, allergic reaction to anesthesia, scarring, or nerve damage).
Shorter time and, therefore, lower price (decreased anesthesia, surgeon fee, and facility costs).
Who Is The Ideal Candidate For A Mini Face Lift?
You might be eligible for the mini face lift if:
You're in your thirties, forties, or early fifties.
You have mild skin laxity.
You have mild to moderate sagging, particularly in the mid-face.
You prefer a natural, subtle look that only you may notice.
Consulting with a plastic surgeon will help you know for sure if you're a good candidate. You can look at "before" and "after" photos of people similar to yourself to arrive at a realistic expectation.
Are There Any Downsides To A Mini Face Lift?
Mini face lift patients can expect their results to last anywhere from two to six years, as opposed to a full face lift, which could yield results lasting a decade or more. While the results are less bold and dramatic, a younger patient who is just starting to see troublesome signs of aging may welcome the trade-off of a quicker recovery and less invasiveness.
Mini Face Lift in New York
If you are looking for a mini face lift New York plastic surgeon, contact Dr. Thomas Loeb, MD. Patient testimonials praise Dr. Loeb for his surgical skill and his "warm, welcoming, comforting" demeanor. His expertise has been featured on Inside Edition, Fox News, CBS Evening News, NBC, ABC News, and EXTRA. Contact our office to schedule a consultation and learn more about mini face lifts.