What Is the Russian Lip Technique?
Loeb Staff | September 17, 2021 | Posted in
lip fillers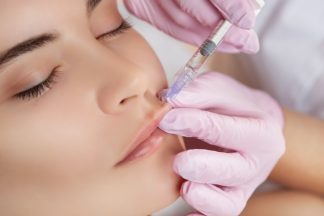 Many women wish they had more sensuous, feminine lips. If you were born with naturally thin or asymmetrical lips, you might want them enhanced. Lips can also become thinner and lose volume over time due to the natural aging process and certain lifestyle habits, such as smoking. Lip augmentation is a popular way to correct this issue. There are different types and techniques of lip augmentation, including the Russian lip technique.
What is the Russian lip technique?
The Russian lip technique can use the same types of fillers as standard lip enhancements. However, they are injected differently. In a conventional lip enhancement procedure, the lip filler is injected horizontally into the lips. Then, the filler is massaged to spread out throughout the lip. This creates a relatively uniform enhancement in volume throughout each lip.
The Russian lip technique is quite different. Rather than being injected horizontally, it's injected vertically. The plastic surgeon will begin the injection at the base of the lip and then gently move the filler toward the border of the lip. Furthermore, not every part of the lip receives the same amount of filler. Instead, the bulk of the filler is concentrated in the cupid's bow, creating greater height in this area before tapering down toward the ends of the lip. The result is a Russian doll-like heart-shaped lip.
Undergoing lip augmentation with the Russian lip technique
Although many women want this doll-like look, achieving it requires undergoing more injections at strategic locations. This can increase the risk of temporary bruising and swelling. Fortunately, these are side effects that tend to resolve quickly.
There shouldn't be additional discomfort with the Russian lip technique, despite the increased number of injections. Your plastic surgeon can inject a local anesthetic into the area. This means you won't even feel the lip filler injections.
Since the same types of fillers are used, the results of the Russian lip technique will last roughly as long as a conventional lip enhancement. Individual results vary, depending in large part on how the body metabolizes it. However, you can typically expect a lip enhancement to last six months to a year.
Schedule a consult for lip enhancement in Manhattan
When you decide that you're ready to enhance the appearance of your lips, you can turn to the plastic surgeon that New Yorkers trust—Dr. Thomas Loeb. Dr. Loeb is a board-certified plastic surgeon with many years of clinical experience and a long track record of happy patients.
Our office offers a number of popular lip enhancements, including injectable fillers and lip implants. Whether you want to increase the volume of your lips or make their shape more sensuous, Dr. Loeb can help. Call to schedule a confidential, one-on-one appointment with Dr. Loeb at his Fifth Avenue office.
Additional resources on lip enhancement
WebMD, Lip Augmentation, https://www.webmd.com/beauty/cosmetic-procedures-lip-augmentation#1