Hottest Plastic Surgery Trend: Meghan Markle's Nose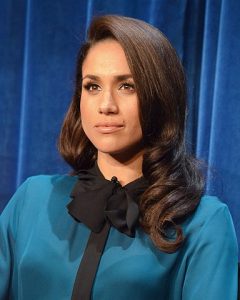 Soon to wed Prince Harry, Meghan Markle embodies a lovely mixture of "girl next door" with stunning natural beauty. The 36-year-old Toronto-based actress, best known for her role in "Suits," has inspired thousands of young girls around the world with her freckled, fresh-faced look and seemingly effortless elegance.
Between her shiny locks, flawless skin and high cheekbones, there is one feature that's drawing extra attention: her gorgeous nose.
With its nearly straight profile and refined tip, Meghan Markle's nose is rhinoplasty inspiration and one of the top plastic surgery requests among women today, overtaking the likes of Kylie Jenner and other popular figures who have driven an uptick in cosmetic enhancements.
Image by Genevieve, derivative work: Firebrace (DSC_3441) [CC BY 2.0 (https://creativecommons.org/licenses/by/2.0)], via Wikimedia Commons
Celebrity-inspired plastic surgery has been gaining traction for over a decade. Just a couple of years ago, cosmetic surgeons reported a 25 percent increase in rhinoplasty surgeries sought by women who wanted Kate Middleton's beautiful upturned nose.
Just like the Duchess of Cambridge, who has became one of the photographed women today, Markle has fueled a sort of royal frenzy, as women of all ages want to dress like her and emulate her looks.
Meghan Markle nose job frenzy hits
While some fans are content to buy Markle's favorite beauty products or copy her stylish fashion, others are going to the extreme. Markle-inspired plastic surgery may be this year's hottest trend, and rhinoplasty requests climbed sharply after photos of Prince Harry canoodling with Markle flooded the Internet.
Now, with the engagement official and a royal wedding just around the corner, the number of women requesting Meghan's nose is continuing to skyrocket. Some plastic surgeons are reporting at least two requests a week.
Beyond a healthy obsession with all things royal, why are women so drawn to Markle's nose? According to plastic surgeon NYC Dr. Thomas Loeb, Markle's nose is so appealing because of its refined tip and straight profile. Her nose may be lovely, but it's also not aesthetically perfect. If you look closely at her profile, you can see a very tiny dorsal bump. This slight "imperfection" underscores the reality that perceived flaws can be beautiful and, in fact, lend harmony to our faces.
Rhinoplasty NYC
"When asked to reproduce a celebrity feature, I remind patients that my main goal as a plastic surgeon is to create an aesthetic result that is flattering and suits the shape of their face," says Dr. Loeb. Meghan's nose, as refined as it is, will simply not look proportionate on every woman.
To schedule a private rhinoplasty consultation with Dr. Loeb, please contact our Manhattan office online, or by calling 212-327-3700.
Additional Resources on Meghan Markle Rhinoplasty:
PopSugar, The Weirdly Empowering Reason People Are Getting Nose Jobs to Look Like Meghan Markle https://www.popsugar.com/beauty/Meghan-Markle-Nose-Job-Surgery-44315289
DailyStar, Meghan Markle PLASTIC SURGERY boom as women demand cosmetic ops https://www.dailystar.co.uk/news/latest-news/665019/meghan-markle-prince-harry-plastic-surgery-nose-job-surgeon