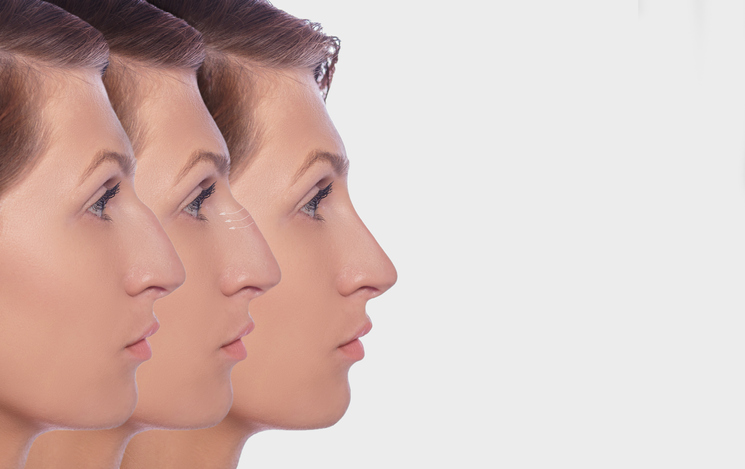 Tip rhinoplasty, also known as nose tip surgery, refines the shape and appearance of the tip of the nose. It may be a good option for individuals who feel that their nose tips are overly bulbous or boxy. Nose tip surgery is ideal for patients who do not have structural issues or cosmetic complaints regarding the entire nose— just the nose tip.
Nose tip surgery overview
Nose tip surgery may be right for you if the appearance of a bulbous, boxy, or drooping nose tip adversely affects your self-confidence and self-esteem. Rhinoplasties can be a transformative experience, enabling both adults and teenagers to feel more confident and happy with their appearance.
During the procedure, Dr. Loeb will carefully reshape the nose tip. In some patients, it's also necessary to reduce the size of the nasal tip. Whenever he reshapes and reduces the nose tip, Dr. Loeb always does so in a manner that produces natural-looking results that are in proportion with the rest of the face.
Bulbous nose tip after rhinoplasty?
Some patients seek nose tip refinement after being dissatisfied with the appearance of their nose tip after a previous rhinoplasty. If this describes you, Dr. Loeb will recommend that you wait until at least one full year after the original operation. This is to allow the residual swelling to subside and for your final results to be visible.
What is a boxy tip rhinoplasty?
A "boxy nose tip" can best be seen when viewing the nose from below. You'll notice the appearance of a squared-off, broad shape. This makes the tip of the nose appear too large in proportion to the rest of the nose.
The surgical approach for boxy tip rhinoplasty varies, depending on the patient's unique anatomy. The nasal domes—which are the apex of the cartilage at the very tip of the nose—may sometimes require trimming and shaping. The surgeon may also need to reduce the convexity of the domes, or flatten them somewhat.
Tip rhinoplasty before and after
As part of your consultation, you will likely have photographs taken of your nose. After the surgery, you will be able to compare your "before" picture to your "after" picture. After your surgery, your nose tip will be reshaped to appear less bulbous or boxy, and in better proportion with the rest of your face. However, do bear in mind that it will take some time for your final results to be visible. In fact, some residual swelling may remain for one year or longer after the operation.
Tip rhinoplasty recovery
Every patient recovers at a different rate. In general, however, the recovery for a tip rhinoplasty can be easier and shorter than the recovery for a full rhinoplasty. You should plan to rest quietly at home for one to two weeks. Avoid strenuous physical activity and exercise for at least three weeks. Sleep with your head elevated, and always sleep on your back to avoid placing pressure on the nose.
In about two months, much of the swelling should have subsided. However, swelling will continue to linger for at least a year following the surgery.
What is the average tip rhinoplasty cost?
At the plastic surgery office of Dr. Loeb, we strive to make cosmetic enhancements accessible and affordable. There is no standard cost for a nose tip refinement, as it can vary depending on many factors. During your consult with Dr. Loeb, you will receive an estimate that explains all the fees applicable for your treatment, including the facility fee and surgeon's fee.
If your rhinoplasty is being performed for medical reasons, we can work with your insurance company to help you obtain coverage for it. We also offer flexible payment options, including medical financing with CareCredit.
Contact Dr. Loeb about bulbous tip rhinoplasty
To find out whether a nose tip surgery could be an appropriate choice for you, contact the Manhattan office of Dr. Thomas Loeb, a board-certified plastic surgeon known for his exceptional artistry and technical skills. Dr. Loeb is frequently called upon to perform revision rhinoplasties after patients have expressed dissatisfaction with the results of a prior plastic surgery performed elsewhere. Call the Upper East Side office of Dr. Loeb in NYC to request a confidential consultation to discuss whether a tip rhinoplasty in NYC is right for you.
Additional resources: