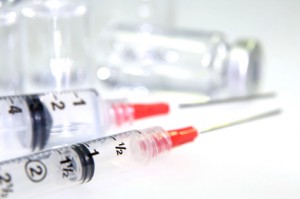 There were 14.6 million cosmetic procedures performed in 2012 – a 98% increase since 2000. Dermal facial fillers are one of the safest and most effective non-invasive options for facial rejuvenation. The first dermal filler was approved by the FDA more than 30 years ago. Since then, surgeons have developed a better understanding of the aging process on tissue volume, which has led to a greater focus on volume restoration to correct tissue sagging and counteract fat loss. Instead of just filling wrinkles and folds, the latest skin care treatments augment existing tissue and correct age-related volume loss in the face.
Dermal fillers work by taking up space under the skin, providing volume and smoothing the surface. They replenish by lifting the upper cheek skin and restoring the younger, softer shape of the face.
One of the latest fillers to hit the market is Juvederm Voluma XC, which was granted FDA approval on October 23, 2013. It is the first and only filler approved to correct age-related volume loss in the cheek area in adults over the age of 21. It creates a more youthful, natural-looking appearance, with results lasting for up to two years.
Planning for Juvederm in NYC
During a private consultation at his private office suite on Manhattan's Upper East Side, NYC plastic surgeon Dr. Loeb will explain the benefits of Juvederm XC and create a personal treatment plan tailored to your needs and requirements.
Before undergoing the procedure, you should avoid blood-thinning medications such as aspirin and anti-inflammatories for at least a week prior to receiving the treatment. This will reduce the risk of bleeding and bruising at the injection site.
Anesthetic is not usually required before the procedure since Juvederm Voluma contains lidocaine, which helps to minimize any discomfort during the injections. Dr. Loeb may still use a topical numbing cream on the treatment area – this will be discussed during your consultation.
Juvederm Voluma procedure
Dr. Loeb administers Juvederm Voluma injections over the course of one to two sessions:
An initial consultation and treatment
An optional touch-up session
During the initial session, the aesthetic goals are discussed and Dr. Loeb ascertains the appropriate treatment area and volume of Juvederm to be injected to achieve those goals.
You will return to Dr. Loeb's office approximately 30 days after initial treatment to evaluate the results and discuss whether you need any touch-ups. If deemed necessary, further injections will be performed. The maximum allotment of Juverderm XC for any patient is 12ml.
Recovery and risks
Juvederm Voluma XC is a safe dermal filler with minimal recovery time and instantaneous results. After treatment, your follow-up period is split into two parts, a six month primary period and an extended follow up period. The primary follow-up period consists of regular visits to Dr. Loeb's office at one, three and six months. After this you will discuss an extended follow-up appointment schedule that suits you.
As a nonsurgical treatment, Juvederm Voluma is a very low risk procedure.
The most common side effects occur around the injection site, and may include:
Tenderness
Swelling
Firmness
Lumps and bumps
Bruising
Pain
Redness
Itching
Discoloration
These side effects are generally mild and usually disappear within four weeks. Dr. Loeb will advise you to avoid strenuous exercise and exposure to extensive sun or heat within the first 24 hours following treatment.
Fillers are not appropriate for all patients. If you have allergies with a history of severe reactions (anaphylaxis), or you are allergic to lidocaine, you will not be advised to use Juvederm Voluma or any other injectable filler.
Related facial rejuvenation procedures
The effects of Juvederm Voluma XC are temporary. Follow-up injections may be needed, typically between 9 months and one year after the initial treatment. Smaller injections are usually needed for repeat procedures.
If you are looking for alternative or complementary options for improving facial appearance and minimizing fine lines and wrinkles, the following are also available:
Chemical peels
Laser skin resurfacing
Fractora
Botox
Radiesse
Juvederm can be performed alone or in conjunction with some of these procedures. Check out Juvederm before & after photos to see the natural anti-aging effects you can expect.  Dr. Loeb can advise you of combinations of treatments that can provide optimal results.
Getting Juvederm in Manhattan
Aging, sun exposure and genetics can all contribute to a tired appearance, no matter what type of skin regimen you use. For more information about Juvederm Voluma XC, or to schedule a confidential consultation with Dr. Loeb to discuss your options for plastic surgery in NYC, we invite you to call our office at 212-327-3700.