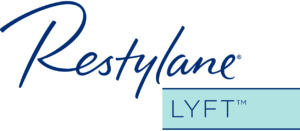 Hands have a reputation for revealing one's true age, even after successful cosmetic procedures on the face and body. Thinning skin, muscle atrophy, and fat volume loss can make veins and bones appear more prominent, aging the appearance of hands. Restylane Lyft is an FDA approved dissolvable HA filler which adds natural looking volume to the tops of the hands, resulting in a smooth and full appearance.
Learn more about the Restylane family of products here.
Watch Galderma's patient testimonials to help alleviate some of your concerns.
Restylane Lyft procedure for hands
Restylane has been available through Galderma for years. Since its FDA approval in 2003, Restylane has gained a reputation as a leading hyaluronic acid filler, reducing lines on the face and adding natural fullness to the lips. Now that it is the first filler of its kind to be approved for use outside the facial area, what do you need to know about Restylane hand injections?
The procedure is very simple and minimally invasive. Acting as an instant plumper, the Restylane is injected subcutaneously (under the outer layer of the skin but above the connective tissue that encases your bones, vessels, tendons, and nerves). The instant results last for an average of six months and up to a year after the injection as it is slowly metabolized by the body over that period of time.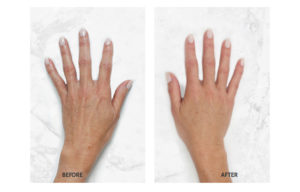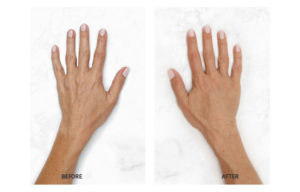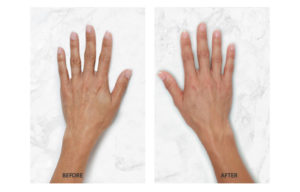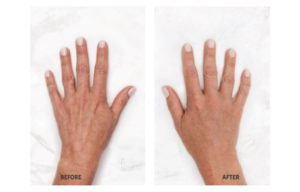 **Images displayed above are models.
Click here to view patient testimonials
Restylane vs. other fillers for hands
Restylane vs. Juvederm:
Restylane is the first and only hyaluronic acid filler to receive FDA approval for hand injections. Juvederm, often used for light to moderate problem areas, is also available for hand injections. The active ingredient for both fillers is Hyaluronic Acid, which increases water absorption and results in more skin volume at the injection site. While the results of both Restylane and Juvederm last between 6-9 months on average, Restylane's natural density and ability to organically restore volume to your skin adds to its appeal.
Restylane vs. Botox:
Compared to Botox, Restylane is used to create plumpness and smoothness in the hands to reverse loss of volume. Botox is a muscle relaxant and therefore is not as effective at improving the appearance of hand. However, because Botox also blocks the neurotransmitters that signal sweat glands to overproduce moisture, it is used to treat overactive sweating in the hands (hyperhidrosis).
Restylane vs. Radiesse:
The active ingredient in Radiesse is calcium hydroxyapatite. The microspheres of this substance is suspended in a water gel to stimulate natural collagen to grow and enhance areas where the skin is thin or sagging due to age and gravity. Radiesse is one of the longest lasting fillers on the market because it is calcium based, and has an average lifespan of 9 to 18 months. Generally, it is used to add volume to larger face areas such as the cheeks, nose, and above the eyes. However, unlike Restylane, Radiesse has a higher risk of bruising and swelling and may temporarily cause decreased mobility in the hands.
Recovery
Mild swelling, itching, and tenderness at the injection site are the most common side effects and are known to subside quickly if they present at all. Most people return to their normal routine immediately after the procedure, resuming work and other daily activities. If results are unsatisfactory, Restlyane can be reversed using hyaluronidase injection. Patients are advised to avoid prolonged exposure to the sun. You should contact a doctor if any symptoms last longer than 14 days.
Planning for Restylane Lyft injections in New York City
If you're considering Restylane Lyft hand injections in NYC, call the Fifth Avenue office of Manhattan plastic surgeon Dr. Thomas W. Loeb at 212-327-3700 to schedule a private consultation. Dr. Loeb will review Restylane before and after photos of real patients, and help you choose the fillers or procedures can best deliver the natural, youthful hands you desire.
Resources: