Get Your Body in Shape for Swimsuit Season
Ava Lawson | March 14, 2017 | Posted in
Body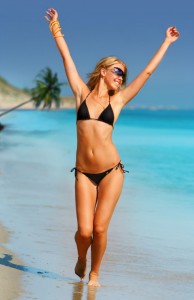 Strappy dresses, short shorts and bikinis… oh my! Winter may be going out like a lion, but spring has nearly sprung. Swimsuit season is just around the corner, which means it's time to start thinking about getting your body swimsuit ready. Are you dreading the mere notion of a skimpy bathing suit? If you want to feel confident and sexy this summer, there are plenty of options for tightening and toning those problem areas.
Tighten up with strength training
One of the best ways to get swimsuit ready is with strength training exercises. Even 15 minutes of focused training a day can net you serious results over a 12-week period. Target your hips, buttocks and belly with body-sculpting moves that firm, tone and actually boost your metabolism as fat melts away and new lean muscle is built. Weight-assisted squats and lunges, planks and push-ups engage key muscle groups that will have you ready for bikini season in no time. If you're having trouble sticking with a program, enlist a workout buddy to help keep you motivated and on track. Beyond the aesthetic and health benefits of exercise, there's something to be said about the endorphin high that comes after a good, strenuous workout.
A clean diet to beat the bloat
If you're itching to strut your stuff down the beach, but aren't quite ready to squeeze into that two-piece, here are a few diet tips to slim down and beat the bloat. The first strategy is adopting a plan that includes four to five small meals a day, which are heavy on plant-based proteins and low in trans fats. If you're a carnivore at heart, stick to lean animal proteins like turkey and fish, with serving sizes no larger than the palm of your hand. Go for vibrant, colorful fruits and vegetables that are high in soluble fiber and easy to digest, and avoid the obvious no-no's like chips and salty processed snacks. High sodium treats, from pepperoni pizza to prepackaged soups, promote water retention. By sticking to a clean, whole-foods diet with minimal processed snacks and alcoholic drinks, you'll notice a flatter stomach and less bloating. The key, as always, is moderation not starvation. Don't deny yourself a splurge day every now and then — just keep the ice cream sprees for special occasions.
Also, don't forget to stay well hydrated. Substitute sugary energy drinks and sodas with water flavored with sliced cucumber or fresh basil. Downing at least 3 liters of water today will improve your digestion, fill up your tummy, and give you glowing, beach-ready skin.
Body sculpting with plastic surgery
If you're yearning for a beautiful beach body, but haven't seen results with diet and exercise, minimally-invasive cosmetic surgery can help you expose your midriff with total confidence. Both men and women complain of troublesome pockets of fat that create love handles, belly rolls and pesky muffin tops. One of the easiest ways to trim down before slipping into your swimsuit is with Smart Lipo – a laser body sculpting lipo procedure that eliminates fat with little bruising or downtime.
If you've been wanting to fill out your bikini in all the right places, but need a helping hand, you may want to book a plastic surgery consultation for a breast augmentation or Brazilian butt lift, both of which deliver amazing results. Keep in mind that you'll need at least 3-4 weeks after the surgery before you're healed and beach-ready.
If you're ready to get your figure swimsuit ready for summer 2017, now is the time to schedule a body contouring consultation with renowned NYC plastic surgeon, Dr. Thomas Loeb who also specializes in plastic surgery for men. To book a private appointment, please call today.