3 Ways to Tighten Flabby Skin Without Surgery
Ava Lawson | March 3, 2017 | Posted in
Skin Care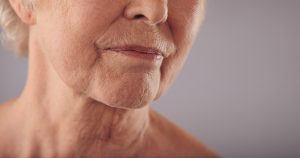 Even when adhering to the cleanest of diets and rigorous strength-training regimens, it's virtually impossible to avoid the effects of Father Time – and our skin is one of the first places to show signs of aging. As we get older, collagen production slows down considerably, leading to increased skin laxity – or loose, sagging skin.
Besides aging and genetics, significant weight loss, smoking and sun exposure can also cause the skin to thin out, droop and lose resiliency.
When it comes to addressing loose, flabby skin, some people may turn to plastic surgery, especially in cases involving dramatic weight loss of more than 75 pounds. But if you're not quite ready to go under the knife, NYC plastic surgeon Dr. Thomas Loeb says there are effective procedures that can reduce the appearance of sagging skin without invasive surgery.
Here are three non-surgical skin tightening and lifting procedures that promise amazing results without anesthesia, stitches or a lengthy recovery.
"Face lift" with Injectable Fillers
Today's highly specialized dermal fillers including Radiesse, Juvederm and Restylane deliver lasting results without major downtime. Sometimes called a "liquid facelift," skin rejuvenation with fillers helps restore lost volume and plump up deep folds, giving your cheeks and jawline an instant lift. While facial fillers won't make you look 15 years younger, they do provide natural and subtle results when performed by an expert injector. Fillers last for up to 18 months, and are a great, non-invasive way to increase skin elasticity in the cheeks while smoothing out wrinkles and lines.
Skin tightening with Ultherapy
Ultherapy is a safe and proven non-surgical way to tighten and lift skin on the face and body. The device uses focused ultrasound energy to tighten, tone and firm the skin from within. This procedure works by heating tissue under the skin's surface, which acts to stimulate the body's natural production of collagen. While the results aren't immediate, most patients notice the tightening effects in 2 to 3 months. If you're tired of sagging jowls and hollowed cheeks, Ultherapy can improve skin elasticity, texture and firmness – without scalpels or anesthesia risks. The procedure is relatively quick – around 30-40 minutes – and OTC painkillers help minimize any discomfort. Results can last for years, but most practitioners recommend a touch up every 18-20 months, when collagen production begins to slow again.
Targeted skin care products
There is a lot of hype surrounding topical creams, serums and facial potions that claim to tighten and firm loose skin. Unfortunately, many of the over-the-counter retinol-based creams won't do much for skin tightening, while they will help improve texture and tone. The same applies to Vitamin C and AHA products, which help exfoliate and are an essential part to a good skin care regimen. The only skin care product that can truly provide a slight tightening effect with regular use is Retin A, or Tretinoin. This is because Vitamin A helps speed up skin cell turnover, helping to boost collagen production. After 6-9 months of regular Tretinoin use, you may notice firmer, less saggy skin around the eyes and jawline and fewer wrinkles. Be sure to use a good sunscreen every day (SPF 30 or higher) when using Retin A.
Skin rejuvenation in NYC
If you're bothered by loose skin and are yearning for a more youthful glow, Dr. Thomas Loeb offers a full menu of skin lifting treatments and technologies for the face and body. After an in-depth consultation, Dr. Loeb can recommend the best procedures for your skin type and concerns.
To request a private appointment with Dr. Loeb in his Manhattan plastic surgery office, please call  212-327-3700.