How Long Is Recovery From Inner Thigh Lift?
Sarah Klein | April 12, 2019 | Posted in
Body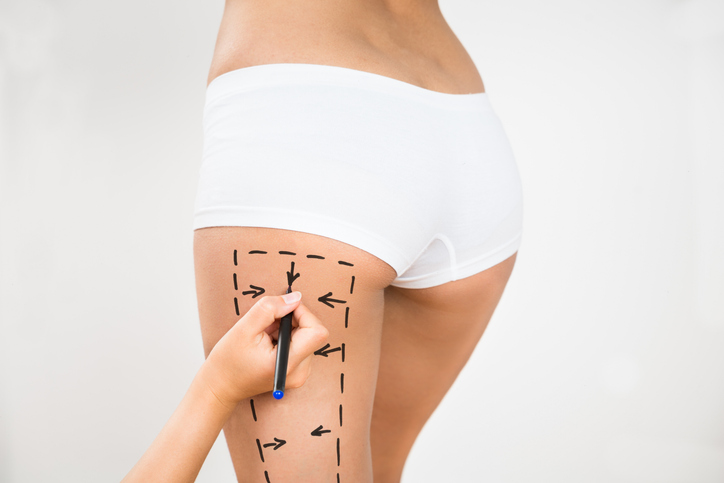 Many people that have worked hard to lose weight are still disappointed when they look in the mirror because of the way their thighs look. Flabby thighs can remain a problem even after substantial weight loss. If diet and exercise have not had the desired effect on flabby or sagging thighs, thighplasty can help. A thighplasty, or thigh lift, is a plastic surgery procedure that reduces excess skin and fat in the thigh area, leaving patients with toned, slim and taut thighs.
There are a few different kinds of thigh lifts, but the most popular is an inner thigh lift. This procedure is ideal for patients with a moderate amount of excess fat and skin, and involves the surgeon making an incision in the groin fold to lift and tighten the thigh skin.
As an inner thigh lift recovery time can last from four to six weeks, it's important that that you understand the recovery commitment and process if you're considering an inner thigh lift in NYC. Though every patient is different, the following is a common recovery timeline for an inner thigh lift.
Day of Surgery
Most inner thigh lifts are performed under general anesthetic. When you first wake up from the anesthetic, you may feel sore in the thigh area, but will most likely be able to go home that same day. However, you cannot be released unless someone is there to pick you up, as you will not be able to drive.
The First Few Weeks
The surgeon will place drains in the incision site to help reduce swelling and extract fluids. Most surgeons will also prescribe a compression garment, which typically must be worn for several weeks to help support the body as it heals and protect the incisions.
Pain, swelling, and bruising is common in the first few weeks, but is often managed with oral pain medication. It is imperative that the patient is cautious when moving, as the incisions are easily pulled.
One to Two Months
By this time, the swelling in the patient's legs will have gone down, and the incisions will be fully healed. There may still be some discoloration in and around the incision scars, but it will fade after two or three months. The patient will most likely be able to resume normal activity after six weeks.
Listen To The Surgeon
Every inner thigh lift is different, and your surgeon will give you a specific recovery plan and timeline for your body. However, it helps to remember to:
Minimize movement, but perform prescribed exercises to reduce blood clot risk
Wear the compression garment 24/7, or as instructed
Minimize sodium intake to help reduce swelling
Avoid high-impact activities like lifting or running for at least six weeks
Protect scars from sun exposure for the first three months
Your Manhattan Inner Thigh Lift
Call today to schedule a one-on-one consultation with Dr. Thomas Loeb to discuss your inner thigh lift options. If diet and exercise have failed to mitigate your inner thigh problem areas, surgery can be an effective and permanent solution. Be sure to ask our friendly staff members about financing options!
Additional Resources:
Your Bariatric Surgery Guide, Thigh Lift, https://www.yourbariatricsurgeryguide.com/thigh-lift/
Smart Beauty Guide, Thigh Lift, https://www.smartbeautyguide.com/procedures/body/thigh-lift/