Is a Thread Lift Right For You?
Jenn Fusion | August 1, 2017 | Posted in
Facelift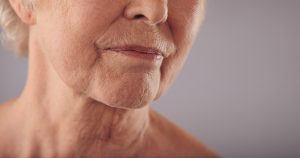 Americans are eager for affordable, minimally invasive anti-aging treatments that can turn back the clock without downtime. So when the Thread Lift debuted as a face-lift alternative, "Good Morning America" called it "one of the hottest new beauty fixes," and Oprah Winfrey promoted the "one-hour lunch-break lift." Gwyneth Paltrow's Goop Blog called it "the future of face-lifts."
According to board-certified Manhattan plastic surgeon Dr. Thomas W. Loeb, the thread lift procedure itself has gone through a "makeover" of its own. The modern version is much safer, but is something he would only recommend for the right patient and the right situation.
What is a thread lift?
The thread lift is a minimally invasive cosmetic procedure for the face, neck, and jowls. Unlike a traditional face-lift, there are no incisions and no deep-tissue manipulation. The absence of visible scars and very short downtime makes the thread lift a desirable procedure for many.
Using a large needle, plastic surgeons pass small cones with graspers on them beneath the skin to pull the skin into a lifted, youthful position. Anywhere from two to 20 threads may be used, depending on the patient's situation. The original threads were made of permanent suture materials, which invited bacterial infections. The new threads are dissolvable, with effects lasting about two years.
Surgeons say the barbed threads promote fibrosis and trigger the production of hyaluronic acid. The body responds by creating new collagen bundles. The new collagen provides better scaffolding to hold the skin up, while improving firmness and elasticity. The micro-trauma brings fresh blood, oxygen, and nutrients to the face, which also promotes younger-looking skin.
The whole procedure is done in less than an hour, under local anesthesia, with sedation available upon request. Patients can expect two to three days of swelling and bruising. Thread lifts can be combined with anti-wrinkle injections, facial peels that improve skin texture, liposuction, and laser treatments to maximize the effect.
Dr. Loeb stresses the importance of finding a qualified practitioner. "As with any newer 'minimally invasive' procedure, you'll find pop-up practitioners, day spas, and people lacking the necessary training and skill who are performing thread lifts. Unqualified practitioners may pull the threads too tight, resulting in undesirable creasing or an unnatural puckering of the skin."
Who is a good candidate for thread lift?
The best candidates for thread lifts are men or women who:
Suffer from mild to moderate sagging or drooping in the cheeks, jowls, neck, or brows.
Are between the ages of 35 to 65.
Want better eyebrow symmetry.
Desire a subtle, natural restoration of youth.
Need to improve loose, lax skin around the face that cause premature signs of aging.
Have had previous face-lifts, but the effects are wearing off.
Want to test-drive the idea of a face-lift, with more subtle enhancements and without invasive treatment.
Have weakened facial muscles that require additional support.
Patients may not be suited for the procedure if they have particularly weak or fragile skin, heavy jowls or sagging, or a thin face with very little facial fat. Patients are prone to disappointment if they are looking for a dramatic transformation to look 20-30 years younger.
Are thread lifts the new face-lift?
"Let me make it clear: the thread-lift is not a true face-lift alternative," says Dr. Loeb. "The face-lift is still the gold standard for facial rejuvenation, particularly if you notice the signs of aging looking back at you in the mirror." For patients with droopy jowls, sunken cheeks, saggy necklines, or deep lines around the nose and mouth, a thread lift will not provide the type of improvement sought. He adds: "A thread lift can be a good option for someone who wants more subtle results."
If you are contemplating a brow lift, eye lift, facelift or any other facial surgery in NYC, we invite you to arrange a private consultation by dialing 212-327-3700. You can also request an appointment using our online contact form.
Additional "thread lift" resources:
Allure, Thread Lift Plastic Surgery Procedure, https://www.allure.com/story/thread-lift-plastic-surgery-procedure
Totally Aesthetic, Are Thread Lifts A Stitch Up? https://www.mdedge.com/edermatologynews/article/154382/aesthetic-dermatology/thread-lifts-face-lift-alternative-or-not
Goop, The Future of Face-Lifts? http://goop.com/threading-the-future-of-facelifts/
CBS NY, Thread Lift Technique Offers Surgery-Free Alternative To Face-Lifts, http://newyork.cbslocal.com/2017/06/01/thread-lift/
NY Times, Mixed Results On A New Beauty Fix, http://www.nytimes.com/2005/12/01/fashion/thursdaystyles/mixed-results-on-a-new-beauty-fix.html?_r=0