Banish the Bra Fat Bulge Forever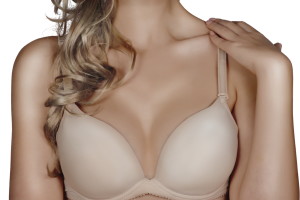 For many women, a three-way dressing room mirror provides their first glimpse of the dreaded "bra fat" rolls that tend to creep up when you least expect them. In reality, skin rolls around the bra line can happen at any age, although women with higher body mass indexes (BMI) are more likely to suffer the problem due to larger amounts of fatty deposits in the back area.
Extra skin and fat rolls that bulge around the bra straps can be quite a nuisance, especially for ladies who like to wear form-fitting clothes or strapless dresses on occasion. If you're one of thousands of woman who want to get rid of unsightly back fat around the bra line, there are several options available.
Exercise to fight the bra bulge
There are many workout routines that target the bra strap fat rolls, helping to tone and tighten muscles in the shoulders and upper back. Personal trainers often recommend a combination of front and lateral raises using 5-8 pound dumbbells as well as seated back flies and bent over rows. Like any type of exercise, persistence is key. For the best results, plan on doing two sets with 12 repetitions each, at least 2 or 3 times a week. "It is important to remember that there is no miracle move to banish back fat overnight. However, with consistent toning exercises coupled with a proper diet and cardio, you will definitely see a change," says fitness trainer Nadia Murdock.
Camouflage with Spanx or Shapeez
One of the fastest ways to smooth the silhouette and minimize the appearance of bra fat rolls is with body-contouring garments like Spanx, made with form-hugging lycra. While this specialty underwear hides fleshy rolls with ease, it's also hot, binding and uncomfortable – making it better suited for one-off occasions.
Tumescent liposuction
Women who are genetically predisposed to higher fat deposits in the upper back and bra line area may benefit from tumescent liposuction, in which the surgeon injects a large volume of liquid containing anesthetic and adrenaline. This helps to swell and harden the fat cells making it easier to suction them out. This particular lipo technique is thought to reduce blood loss and promote a faster recovery.
Suction-assisted lipectomy
In more extreme cases, where deep skin folds have developed around the bra line, surgeons may recommend suction-assisted lipectomy for long-term results. This procedure breaks down fibrous tissue and ligamentous attachments that liposuction alone cannot normally achieve. Lipectomy can be aided with ultrasonic energy (VASER lipectomy) or power-assisted with a rotating blade that breaks down tough fibers prior to suction.
A patient's anatomy, BMI, skin quality, medical history and aesthetic concerns will be evaluated to determine the best cosmetic approach for eliminating skin rolls near the bra line.
In the end, there are a lot of factors that contribute to bra line bulges including skin laxity, age-related gravity, poorly fitting bras, excess weight or sudden weight loss. If you would like to discuss your concerns with a trusted Manhattan plastic surgeon, we invite you to call the offices of Dr. Thomas W. Loeb.
Dr. Loeb performs a suite of body-contouring procedures including Smart Lipo, tumescent liposuction and targeted skin lifts. For more information or to arrange a private appointment, call 212-327-3700.