NYC's Top 3 Summer Plastic Surgery Trends
Ava Lawson | June 12, 2015 | Posted in
News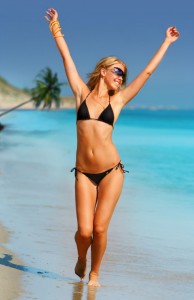 Liposuction and breast implants are still the most requested cosmetic surgery procedures across the nation in 2015, but experts anticipate new trends for plastic surgery in NYC this summer. Remember when 'Brotox' (Botox injections for guys) and lip augmentation were all the rage?  Non-invasive facial rejuvenating treatments are still widely popular among both sexes, but plastic surgeons are seeing a surge in other procedures specifically designed for women.
Facial fat grafting, buttock augmentation and labiaplasty are helping women reclaim a more youthful appearance, restore lost confidence and proudly flaunt a curvier backside.
In the capable hands of Manhattan plastic surgeon Dr. Thomas Loeb, patients can avail themselves of cutting edge techniques used in volumetric restoration (fat grafting), Brazilian butt lift surgery and labial reduction, ensuring the best outcomes possible.
Summer plastic surgery trends
This summer's top trends in plastic surgery for women include:
Fat grafting – One of the first signs of facial aging is volume loss in the cheeks, jaw and temples, which can create a gaunt and tired look. Surgeons are just beginning to understand the long-term benefits of fat grafting, in which unwanted fat is harvested through liposuction from other parts of the body and then injected in areas needing extra volume. This volumetric restoration not only adds instant fullness, it helps reorganize elastin fibers underneath the skin, lending a more youthful look. Fat grafts can deliver terrific results on their own, or may be used in conjunction with a face lift.
Brazilian butt lift – Fueled by the voluptuous curves of the Kardashian clan, and other notable music and movie personalities, butt lifts have become one of the top procedures for 2015. Statistics from the American Society for Aesthetic Plastic Surgery show an 86 percent increase in buttock augmentation over the previous year. Performed under twilight or general anesthesia, a Brazilian butt lift can dramatically boost the prominence and firmness of the buttocks – perfect for any lady who has always wanted a high, shapely booty.
Labia reduction – The stigma associated with plastic surgery of any type has waned over the years, as procedures become more commonplace among patients looking to boost self-esteem and do something positive for themselves. One of these procedures is labiaplasty, designed to reduce inner and outer labia that have become stretched over time. For many ladies, this predicament causes embarrassment in the bedroom and discomfort when wearing a bathing suit or form-fitting workout clothes. Some surgeons attribute the trend in labia reduction to increased awareness about the procedure, which spiked nearly 50 percent last year.
Thanks to advancements in plastic surgery and facial rejuvenating techniques, these popular procedures are safer than ever, with fewer risks of complications.
Plastic surgery NYC
There are few plastic surgeons in NYC who can offer patients the level of expertise and natural results as Dr. Thomas Loeb. There is no doubt that cosmetic surgery is advancing at break-neck speed with new techniques and innovative products released each year, but your choice of surgeon is critical to success.
If you would like to discuss your concerns and plastic surgery options with Dr. Loeb, who is widely recognized as a leader in his field, we invite you to call 212-327-3700 to schedule a private consultation.