4 Signs You May Need a Secondary Rhinoplasty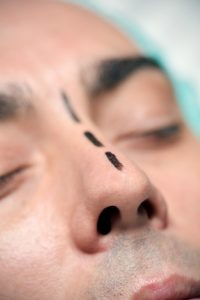 Rhinoplasty, more frequently referred to as a "nose job," is an effective way to balance facial symmetry, and to sculpt the proportions of the nose so that it fits in well with the facial shape and contours. Rhinoplasties are more complex than most patients realize, and medical complications or undesirable aesthetics resulting from the original surgery lead many patients to seek a secondary or revision rhinoplasty. You can reduce the risk of needing another procedure by selecting a highly trained, experienced plastic surgeon for your rhinoplasty.
1. You aren't happy with how your nose looks.
Rhinoplasties stand apart from other cosmetic surgeries in that it can take a very long time for the final results to manifest. Plastic surgeons recommend waiting at least a year to allow your nose to "settle" into its final form. If, after this waiting period, you're still unsatisfied with your appearance, it's time to make an appointment to discuss a secondary rhinoplasty.
Look for a plastic surgeon with extensive experience performing revision rhinoplasties, as this can be a particularly complex surgery. Consider bringing along some pictures of noses you admire. Look in magazines or online for inspiration.
2. You're experiencing breathing difficulties.
Even if you approve of the final aesthetic outcome of your nose job, you might need a revision rhinoplasty if you're having problems breathing. Most post-rhinoplasty breathing problems occur because of:
Undiagnosed, untreated, pre-existing nasal conditions, such as deviated septum or mucosal disease, and
Over-resection of cartilage, causing excessive reduction of the nasal valve area.
Regardless of the reason for your breathing difficulties, you'll need to get the problem addressed. Leaving it untreated can compromise your quality of sleep, inhibit your ability to exercise, and lower your overall quality of life.
3. You've sustained physical trauma to your nose.
Sometimes, secondary rhinoplasties aren't performed because complications developed or the original surgeon failed to achieve the desired result; rather, some patients seek a revision surgery because they've injured their post-op nose. After surgery, the nasal structures and tissues can be more delicate and prone to injury, especially during the first one to two years. If you're involved in a collision on the football field, survive a car crash, or slip on an icy sidewalk, your nose might suffer the consequences.
4. You're concerned about the loss of ethnic characteristics.
Some plastic surgeons have more experience than others in performing ethnic rhinoplasties. These surgeries are performed with the intention of retaining the nasal characteristics that typify a particular ethnicity, while reshaping the nose to achieve a more desirable facial symmetry and balance. If the original rhinoplasty failed to achieve this, it might be time to consult a surgeon about a secondary rhinoplasty.
Dr. Thomas Loeb in New York City is an accomplished, widely acclaimed plastic surgeon who is known for his skill in performing secondary rhinoplasties. Patients come to his Fifth Avenue office from around the world to have their noses sculpted and refined by Dr. Loeb. You can call 212-327-3700 to request a consultation to discuss having a revision rhinoplasty in Manhattan.
Additional Resources for Secondary Rhinoplasties
American Society of Plastic Surgeons, Rhinoplasty, https://www.plasticsurgery.org/cosmetic-procedures/rhinoplasty
Medscape, Postrhinoplasty Nasal Obstruction Rhinoplasty, https://emedicine.medscape.com/article/841574-overview