5 Important Questions to Ask at Your Rhinoplasty Consultation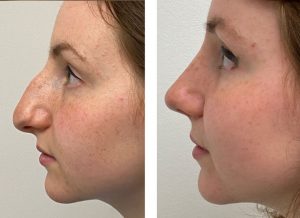 A rhinoplasty is a type of plastic surgery that reshapes the nose. It's often done for aesthetic purposes. For example, you might want to correct an asymmetrical appearance or make your nose's size in proportion with the rest of your face. However, a rhinoplasty can also improve the function of your nose, particularly if you have a deviated septum. If you've scheduled a rhinoplasty consultation, you can put together a list of questions to discuss with your plastic surgeon.
Am I a good candidate for a rhinoplasty?
Good candidates are individuals whose jaw and face growth has completed and good overall health. In addition, you should be a non-smoker. Smoking increases the risk of complications, both during and after the surgery, and most surgeons will ask patients to quit smoking before having elective surgery.
Further, you should have realistic expectations for the outcome and fully understand what's involved. Your plastic surgeon will discuss what will happen during and after the procedure and the potential risks involved. Lastly, you'll need to disclose your full medical history, including any medical conditions you have and drugs or supplements you take.
What can I expect from the recovery process?
Patients should always know what the recovery process will be like before deciding on elective surgery. Your surgeon should provide you with detailed instructions to follow after the procedure. You should also ask them whether someone would be available by phone after hours if you experience any issues.
How soon will I see the results?
Although the initial recovery time is only a matter of weeks, you can expect to experience some residual swelling. Because of this, it won't be possible to see your final results right away. In fact, it may take up to a year for the lingering swelling to fully resolve.
Are you a board-certified plastic surgeon?
It's always advisable to choose a board-certified plastic surgeon. Board certification ensures that the surgeon has completed rigorous credentialing requirements above and beyond the licensure's minimum requirements. As a result, you can trust that the surgeon will prioritize your health and safety.
Do you have specific experience performing rhinoplasties?
Even after finding a plastic surgeon with board certification, it's essential to ensure they have plenty of experience—specifically, with nose jobs. Rhinoplasty isn't like other plastic surgeries. It's a particularly delicate procedure that requires considerable skills. To improve your chances of getting the results you want, it's recommended that you choose a plastic surgeon with a long track record of successful rhinoplasties.
Schedule a rhinoplasty consultation in NYC
For many people, Dr. Thomas Loeb is the surgeon of choice for performing a rhinoplasty in New York City. Dr. Loeb possesses an unmatched blend of technical skills and aesthetic artistry. He often works with patients who could not get satisfactory results elsewhere and, consequently, require a rhinoplasty revision surgery. You can schedule a confidential consultation with our rhinoplasty surgeon in Manhattan by contacting us today. Virtual consults are available.
Additional resources on rhinoplasties
American Society of Plastic Surgeons, Rhinoplasty, https://www.plasticsurgery.org/cosmetic-procedures/rhinoplasty