The Ancient Art of Rhinoplasty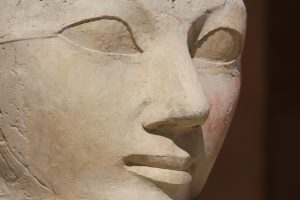 The origins of cosmetic surgery can be traced back thousands of years. Papyrus scrolls suggest that Egyptians were performing rhinoplasty, or nose reshaping surgery, as early as 3500 B.C. Detailed hieroglyphics depict nasal reconstruction for aesthetic purposes in this ancient civilization, which often utilized nose removal – or rhinectomy – as a punishment for seemingly minor crimes.
The surgery, performed without the benefit of modern sterilization methods or anesthetics, ultimately laid the foundation for further advancements used by other cultures.
Rhinoplasty in ancient times
Records show that northern India was also pioneering rhinoplasty surgeries as far back as 500 B.C., an era when facial mutilation as punishment (for religious or political crimes) was still commonplace. An Indian doctor called Sushruta began using a more sophisticated technique of nasal reconstruction, described in the medical thesis, Sushruta's Compendium. By removing small flaps of skin from the patient's cheek or forehead, he could use the tissue to "build" a new nose. This groundbreaking technique remained unknown for nearly 2,000 years, before being translated and eventually shared with European physicians in the Western world. Sushura's revolutionary forehead flap nose surgery enabled convicts to return their community, no longer ostracized for their looks.
By the 15th and 16th centuries, nasal reconstruction was no longer solely focused on helping rebuild the faces of punished convicts. Plastic surgery was being used to help those injured and disfigured in war and by disease.  When a syphilis epidemic raged across Europe in the late 1500's, many citizens were left with massive holes in the soft tissue of their face and nose – a devastating side effect of the disease.  Doctors turned to Sushara's forehead-flap technique to help lessen the social stigmatization of those whose faces were left mutilated.  In 1597, an Italian doctor by the name of Gasparo Tagliacozzi described nose surgeries performed on soldiers who were injured and left deformed by the war.
Evolution of nose reshaping surgery
Moving into the early 1800's, surgeons like Dr. Karl Ferdinand von Gräfe and Dr. Joseph Constantine Carpue, were developing more specialized and advanced rhinoplasty techniques, including a free-graft nasal reconstruction still used primarily to help patients with serious deformities or injuries. The first true "cosmetic" nose job is credited to Dr. John Orlando Roe, an American ear, nose and throat surgeon. In 1897, he performed a rhinoplasty on a male patient who was anxious about the large size of his nose.
It wasn't until the 1930's when rhinoplasties were centered more on beautification and aesthetics, often performed on the rich and famous. Nose jobs became the norm for many of Hollywood's biggest names, including Rita Hayworth and Marilyn Monroe.
The next few decades saw continuing advancements in surgical techniques, including the open and closed rhinoplasty, used to improve both appearance and function of the nose.
Today, rhinoplasty continues to be one of the most commonly performed plastic surgeries in the United States, as patients take advantage of new techniques that deliver beautiful results with minimal recovery time.  Nose reshaping surgery can correct bothersome humps or bumps, refine the nasal profile and bridge, and create a better sense of facial harmony.
Rhinoplasty in NYC
Manhattan plastic surgeon Dr. Thomas W. Loeb is renowned for his artistic eye and natural rhinoplasty results that have helped thousands of patients bolster their self-esteem. To schedule a private consultation with Dr. Loeb about primary or revision rhinoplasty, please call today.
Additional Rhinoplasty History Resources:
Science Museum, Rhinoplasty http://broughttolife.sciencemuseum.org.uk/broughttolife/techniques/rhinoplasty
U.S. National Library of Medicine, Edwin Smith Papyrus, https://www.nlm.nih.gov/news/turn_page_egyptian.html
The Daily Beast, The Thousand Year History of the Nose Job http://www.thedailybeast.com/articles/2017/01/08/the-thousand-year-history-of-the-nose-job.html
Stanford Medicine, Ancient surgical technique still used to rebuild noses today http://scopeblog.stanford.edu/2016/02/09/ancient-surgical-technique-still-used-to-rebuild-noses-today/