Rhinoplasty: Dramatic Results with Large Bumps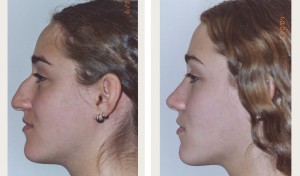 Dr. Thomas W. Loeb is a renowned NYC rhinoplasty surgeon who first picked up media headlines for Paula Jones' amazing nose transformation in the nineties. NY Daily News described the final result as "shorter, straighter, slightly upturned, and more or less cute as a button." She said she got the surgery to lose her "family nose," avoid being poked fun at by cartoonists who "made it huge," and to have a normal nose that matched her face. "Now they can see my whole face, the whole me," she said afterward.
What can plastic surgeons do for a dorsal hump deformity?
A pronounced bump on the bridge of the nose may not be noticeable from the front view, but becomes extremely apparent from the side view. Some people with bumps on their noses also have wide nasal bridges or enlarged tips. The shape of the nose can make a person look more masculine or more feminine. It greatly affects overall attractiveness. For older patients, a nose reduction can give the appearance of youth.
Some humps on the upper bony portion of the bridge can be altered by removing excess bone. Other humps require the trimming of excessive cartilage. Most commonly, rhinoplasty involves a little bit of both. An under-developed radix (bridge) that leads to fullness along the profile line may require grafting.
In the above video, Dr. Thomas W. Loeb reveals what transformations are possible for men and women with excessively large humps. Experienced plastic surgeons can straighten, slim, and reshape these noses, without the loss of ethnic characteristics.
How to get natural rhinoplasty results
"My objective is to give you something that is subtle and appropriate for your face, so you forget that you were ever born with anything else," Dr. Loeb explains. "I want it to be something you don't think about anymore… just a very attractive, natural result."
He adds that it is possible to give a person more significant hump reductions, if desired. "At the consultation, I'll ask the patient what they see as problematic about the nose. I'll point out areas I can reshape. We talk about celebrity noses. Computer imaging really goes a long way in helping patients select the type of change they wish to see," he says.
Rhinoplasty surgery offers dramatic results, without a lot of downtime
A rhinoplasty surgery in skilled hands takes just 60 to 90 minutes, even with the biggest humps. Patients are generally back to work or school in one week. Some people may have some slight bruising at that point, but most people look just fine. To a trained eye, it could take up to a year for the full results to be observed – though most patients see dramatic results right away, with all noticeable swelling resolved within a month.
Looking for the best rhinoplasty surgeon in NYC?
"Dramatic rhinoplasty is really rewarding for me," explains Dr. Thomas W. Loeb, MD. "Patients come in, do computer imaging, get a pretty good idea, and then when I actually deliver it, they get so excited." Particularly with teenagers, Dr. Loeb says, their lives are forever changed. After some time, they forget what their large bump noses looked like and fall comfortably into new levels of confidence and happiness. "I've had really fantastic, exciting results with large nasal hump transformations," he adds. Contact Dr. Loeb for a consultation at his plastic surgery office on Park Avenue in Manhattan to see what is possible.