The Secret to a Natural-Looking Rhinoplasty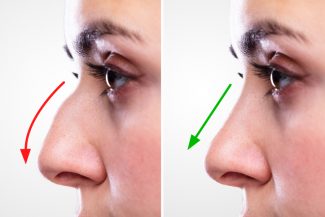 Since the nose is at the center of the face, it makes sense that one's eye is naturally drawn to it. When a nose has a bump in the bridge, a bulbous tip, or is of a size that is out of proportion with the rest of the face, these imperfections are immediately apparent. Because of the prominence of the nose, nose jobs, or rhinoplasties, are among the most popular types of cosmetic surgeries. They're also incredibly complicated, and one wrong move can jeopardize the final results. There is no one single secret to having a natural rhinoplasty in NYC, but there are a few of them to consider.
A natural nose job is dependent on the surgeon's skill and artistry
The plastic surgeon you choose is the most important factor in achieving a natural-looking rhinoplasty. Nose jobs are notorious for being technically complicated and artistically challenging. It's essential to choose a surgeon who is not only board certified, but has years of experience performing not just plastic surgeries in general but rhinoplasties in particular. Otherwise, you may find yourself with an unnatural-looking nose and possibly functional problems with your breathing.
Careful treatment planning is crucial for a natural rhinoplasty
A skilled and experienced plastic surgeon understands that not every nose requires a drastic change in order to achieve an aesthetically pleasing appearance. Sometimes, only a minor adjustment is needed—such as the smoothing out of a bump on the bridge of the nose or a little tweak to the tip. Your plastic surgeon should carefully plan your surgery with an eye toward natural-looking results.
Another issue to keep in mind is that one person's ideal nose isn't necessarily your ideal nose. That is, even if you really like a particular celebrity's nose and you wish you had it, it might not necessarily be the right nose for your face. Your final results should be heavily determined by your facial features. Your new nose should be in proper proportion with the rest of your face so that it balances your appearance. Careful treatment planning should allow your plastic surgeon to achieve the right balance for your face.
The importance of adhering to recovery requirements
After your surgery, you will need to meticulously follow all of your post-operative instructions. Your new nose will be highly sensitive and tender for quite a while, and failing to adhere to your post-op instructions can negatively affect your final results. For example, you should sleep on your back for several weeks, avoid resting heavy eyeglasses or sunglasses on the bridge of your nose (contact lenses are preferable), minimize facial movements, and avoid blowing your nose strenuously.
Request a consultation for rhinoplasty in New York City
Dr. Thomas Loeb is widely regarded as one of the top rhinoplasty surgeons. Over the years, he's acquired worldwide acclaim for his clinical skills and sense of artistry. Patients fly into Manhattan from all over to consult Dr. Loeb about their nose jobs. If you're located in or near NYC, you can call our office to request a confidential in-person consultation at Dr. Loeb's Fifth Avenue office. We also offer virtual consultations to patients who plan to travel for their surgery.
Additional resources for rhinoplasty patients