Botox Injections – A Subtle Way to Turn Back the Hands of Time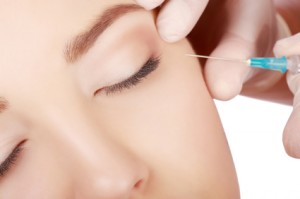 Botox, when injected in moderate amounts, can take years off your appearance in a matter of days. It's been one of an arsenal of anti aging beauty tricks used by leading Hollywood starlets, who swear by its smoothing effects. One of the greatest aspects of this non-invasive treatment is that the results are subtle enough to make a difference, but not too drastic as to announce, "I've just had major work done!"
In fact, some female Botox users have kept this facial rejuvenation tactic a secret from their spouses – a testament to its understated results (only when performed by an experienced plastic surgeon).
As reported by ABC News, 33-year-old Morgan Shanahan waited a full month before telling her husband she had Botox in her forehead. The Los Angeles resident finally spilled the beans after her secret became too burdensome to bear.  The details of her plastic surgery confession were revealed on her blog, where she admitted her hubbie's trust had been betrayed.
In the end, Shanahan knew her spouse would always see her as beautiful at any age, though he never noticed that the upper third of her face had been partially frozen. "I would do it again," Shanahan said adding, "And I would talk to my husband about it first."
Ample reasons for NYC Botox injections
Unlike dermal fillers that restore lost volume in the cheeks, lips and naso-labial folds, Botox relaxes muscles through blocking neuron impulses, which helps to smooth out deep, unattractive creases that typically form in our foreheads and around the eyes. With a minimalist approach, a doctor might inject anywhere from 10 to 16 units in the forehead to relax horizontal wrinkles and the vertical worry lines between the eyes.
If an injector is inexperienced or overzealous with the treatment, patients may be saddled with a heavy, frozen look – left without the ability to make natural facial expressions. In the right hands, however, patients can benefit from a refreshed appearance that suggests healthful living and the vibrancy of youth.
The best part is, this lunchtime procedure is nearly pain-free, and usually takes less than 20 minutes!
NYC Botox injections have become a beauty staple for thousands of men and women, including TV personality and popular talk show host Kelly Ripa. "It's cut my getting ready time in half," Ripa said. "I'm not advocating for it one way or the other. I'm just saying Botox changed my life." Like many Botox lovers, Ripa does advocate for moderation, which ensures you won't be left with the permanent look of surprise.
Robin Wright is another fan of the injections, which she has done every 4 to 6 months in small doses she calls "sprinkles."
Plastic surgery in New York
Botox has been successfully used by millions of Americans over the last decade, and when performed by a competent NY plastic surgeon with ample experience, the treatment really turns back the clock!
If you'd like to learn more about skin rejuvenating treatments in NYC, we invite you to call Dr. Thomas Loeb at his Fifth Avenue office. During your private meeting, Dr. Loeb can discuss various procedures including facial fillers, Botox, laser skin treatments and others. You can schedule a facial surgery consultation by calling 212-327-3700 or filling in the online contact form.