Planning a Smile Makeover? Why Stop There?
Jacky Gale | July 16, 2018 | Posted in
Skin Care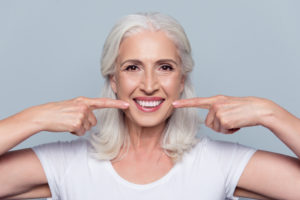 Healthy teeth and a beautiful smile are important at every age. Increasingly, more adults have been turning to clear aligners and dental implants to improve the look and function of their smiles. But why stop there? There are plenty of cosmetic enhancements to refresh and rejuvenate your lips, chin, cheeks, and the rest of your face! You deserve a look you can feel confident with, and there are lots of options to help you get there—from minimally invasive injections to plastic surgery.
Plump up your lips
The lips have a tendency to thin later in life, especially if smoking has been a factor. Consider framing your beautiful new smile with plump, sensuous lips. A plastic surgeon can create a natural-looking, but temporary effect with injectable fillers. This gives you an opportunity to get used to your new look and consider whether you'd like to make it permanent. If so, you can either choose to get periodic lip injections, or you might opt for permanent lip implants. Lip implants are placed under local anesthetic, with very small incisions. The recovery time is typically one to two weeks. And although lip implants are permanent, you could always choose to have them removed later if you wish.
Banish those wrinkles
After enhancing your youthful beauty with a smile makeover, consider tackling those wrinkles. There are more options than ever before for banishing your wrinkles. Botox remains quite popular. There is also a wide range of dermal fillers using plumping ingredients like hyaluronic acid. It takes just a few minutes to receive the strategically placed injections, and you'll enjoy the results for months.
Consider a chin enhancement or nose job
Plastic surgery is often a good option for individuals who desire more dramatic changes. If you're troubled by a weak chin or displeasing contour, consider talking to a plastic surgeon about chin augmentation. Chin augmentation is a minimally invasive procedure that involves placing silicone or porous polyethylene implants around the chin bone to enhance its appearance. This plastic surgery can be performed under local anesthesia, and takes only about an hour. The average recovery time is about seven to 10 days.
Rhinoplasties, or nose jobs, are also a highly popular choice for people who want to look as young as they feel. This plastic surgery may be right for you if you're troubled by the size, shape, or asymmetry of your nose. A rhinoplasty can also fix a bulbous tip, narrow nostril openings, oversized nasal bridge, or deviated septum. The goal of a rhinoplasty is to adjust the nose so that it's in the proper proportions with the rest of the face.
Plan your total face makeover in Manhattan, NYC
Dr. Thomas Loeb is a world-renowned plastic surgeon known for his sense of artistry and exceptional technical skills. Schedule a confidential facial surgery consultation at Dr. Loeb's Fifth Avenue office to discuss what you'd like to change or enhance about your face. Dr. Loeb specializes in minimally invasive cosmetic enhancements and plastic surgeries, including cosmetic injectables, cheek augmentation, chin enhancement, lip augmentation, and facelifts. Call 212-327-3700 to request an appointment at our fully accredited surgical office.
Additional resources about facial makeovers
American Board of Cosmetic Surgery, Chin Implants, https://www.americanboardcosmeticsurgery.org/procedure-learning-center/facial-procedures/chin-implants/
Botox, http://www.botox.com/