Top 5 Tips for Summer Skin Care
Ava Lawson | July 1, 2015 | Posted in
Skin Care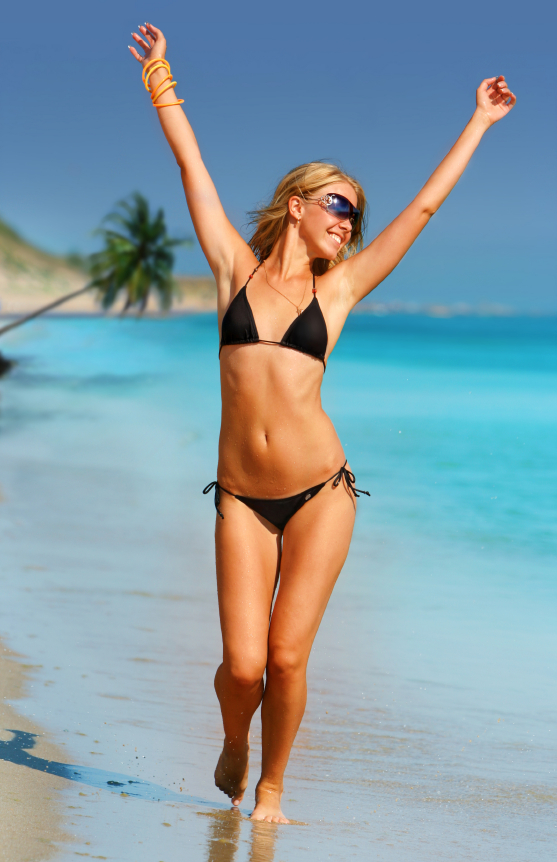 Radiant, hydrated skin is one of the first indicators of good health, but it can be hard to stick to a good skin care regimen when the summer sun beckons us outdoors. Prevention is key for avoiding serious sun damage, which can age the skin quickly, creating hyperpigmentation, uneven coloring, large pores, creases and wrinkles. Ideally, your efforts to stave off the aging process should start in your mid to late twenties. At this point, collagen production levels decline, leaving you more prone to the effects of dehydration and sun damage.
Non-invasive skin care treatments including laser resurfacing, chemical peels, intense pulsed light (IPL) treatments and dermabrasion can help correct problems once they appear, but if you follow these five tips, you can help keep your skin looking healthy, refreshed and glowing through your thirties and beyond.
Summer skin care tips to avoid sun damage
It's no secret that a proper skin care regimen and a healthy lifestyle can help diminish signs of aging while reducing your risk of pigmentation changes, sun spots and wrinkles (not to mention the risk of skin cancer).  But if you're planning on enjoying some quality time at the beach or poolside this summer, take note of these easy tips that can keep your skin healthy and rejuvenated for many years to come.
Use sunscreen every day – Even if the forecast calls for showers or an overcast day, UV rays can still do some serious damage. Worried about break outs? Stick to oil-free sunscreens that are mineral based, rather than chemical. Look for zinc oxide or titanium based options with at least a 35 SPF rating and don't forget your neck and chest. Apply at least 30 minutes before sun exposure and try and avoid being out between 10 AM and 2 PM, when the sun's rays are strongest.
Wash your face correctly – Hot water and strong facial washes will strip your skin of its natural oils, leaving it dry and more prone to sun damage. Stick to lukewarm water and a mild cleanser for best results. Aggressively scrubbing with a rough cloth or scrub isn't smart either—leave the exfoliation for later.
Moisturize lightly- Since we tend to sweat more in hotter weather, a heavy moisturizer can actually exacerbate acne-prone skin. Look for water-based versions that contain antioxidants, Vitamin E, Vitamin C and retinols which all combat oxidative stress and DNA damage caused by the sun.
Eat smart and hydrate – Research has demonstrated that foods rich in polyphenols and Omega 3 fatty acids help guard against UV damage. Next time you're in the mood for a snack, reach for walnuts, broccoli or an apple. Add a tablespoon of olive oil to your salads or sprinkle it over your sautéed veggies for extra protection against UVA/UVB sun damage, and always drink at least 8-10 cups of water daily.
Exfoliate regularly – Glycolic acid is an amazing exfoliator that can strip away dull, dead skin cells, encourage cell turnover and keep skin looking bright and refreshed. Depending on your skin type, exfoliation with a glycolic acid cleanser or cream may be helpful 2-3 times per week just before you go to bed, but never exfoliate sunburned or severely chapped skin. Vitamin C serums also help reverse the appearance of sun damage and boost your protection.
Non-invasive skin care treatments in NYC
Fortunately, there are numerous anti-aging skin treatments that are non-invasive and promise excellent results when it comes to freckles, lines, sun spots and uneven coloration caused by years of sun exposure. Botox injections virtually erase wrinkles in the forehead and eye area, while lasers go below the skin's surface to diminish the appearance of fine lines, while improving tone and texture.
If you're searching for ways to tighten and brighten your skin, or reverse the effects of sun damage, Dr. Thomas Loeb offers anti-aging skin care in his Manhattan plastic surgery office. Call 212-327-3700 to schedule a private facial surgery consultation.