Lunch Hour Plastic Surgery – Amazing Results in Under 1 Hour
Ava Lawson | August 17, 2015 | Posted in
Skin Care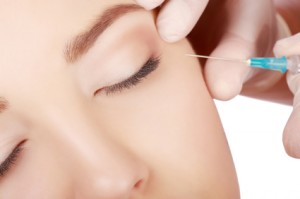 Have you ever wondered about lunch hour plastic surgery? Do injectables really do what they promise? Facial rejuvenation procedures have evolved dramatically over the past ten years, allowing women and men to take years off their looks in less than 45 minutes. These days non-surgical cosmetic procedures are both affordable and accessible – and they come with virtually zero downtime.
Some lunch time procedures give immediate results, while other treatments take days or even weeks to see the full effects. Whether you're concerned about age spots, deep creases, lost volume or broken capillaries – there's a solution to help you look radiant and more refreshed.
Lunch hour plastic surgery in Manhattan
The American Society of Plastic Surgeons (ASPS) reports that the demand for so-called "lunch hour" cosmetic procedures is on the rise, as more people are skipping their lunch breaks for a chance to turn back the clock.
Here at the New York City plastic surgery office of Dr. Thomas Loeb, some of the most common lunchbreak treatments include:
Botox – also known as the "anti-wrinkle" injection, Botox targets the nerves within muscles, causing wrinkles to relax and disappear. The injections are not painful, take only 15 minutes to complete, and deliver amazing results that can last upwards of 4 months. However, don't expect an instant makeover, as Botox takes a full 5-7 days before taking effect. Botox injections are ideal for diminishing crow's feet lines around the eyes, deep creases along the forehead and worry lines on the brow.
Dermal fillers – One of the first signs of aging is the hollowing under the eyes and around the cheeks. Fillers like Juvederm and Restylane can plump out these areas immediately, erasing marionette lines with ease. This lunch hour treatment works wonders in just minutes, and side effects such as redness and bruising are short lived.
Lip Augmentation – A luscious, full pout can make any women feel sensual, and lip augmentation with fat injections or fillers is a popular procedure that delivers instant results.
Chemical Peels – Say goodbye to sun damaged skin. Signs of age spots, redness and uneven pigmentation are reduced with the aid of a light or moderate chemical peel using exfoliating acids. Depending on the type used, downtime can range from a few hours to a few days, but the results are worth the wait! After the peel, you can expect glowing, radiant and supple skin.
Ultherapy – This innovative treatment uses ultrasound waves to tighten and firm the skin. FDA-approved to subtly lift the eye brow and tone the neck and chin area, Ultherapy stimulates collagen production over weeks and months. Many Hollywood celebs swear by it, and patients see rejuvenating results in just 3-4 months.
Anti-aging skin treatments in NYC in under an hour
Keep in mind that temporary redness and swelling are common side effects with many lunch time cosmetic treatments, so factor that in when scheduling an appointment. It's always best to discuss your expectations before embarking on any type of facial plastic surgery – whether it's surgical or non-invasive.
If you are thinking about skin rejuvenation in NYC and want to ensure you're in capable hands, we invite you to call 212-327-3700 to schedule a consultation with Dr. Loeb – consistently rated among the best Manhattan plastic surgeons.