Breast Reduction Changes Lives: Stories from Women Who Have Done It
Jacky Gale | September 1, 2017 | Posted in
Body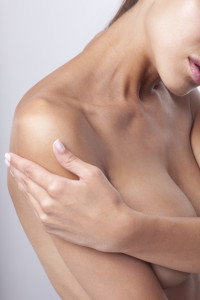 Breast augmentation surgery is a popular choice among patients, but breast reduction surgery can have even more of a positive impact on a person's life. Women with excessively large breasts often suffer from upper back pain and poor posture. It can be difficult or even painful to exercise, and it's socially awkward when other people's eyes are instantly drawn to the chest. If you've been fed up with your large breasts, the inspiring stories of women who have been there and done that might help you make a decision.
Real-Life Breast Reduction Success Stories
"I was tired of people seeing my I cups before they saw me."
In a 2015 interview with Women's Health magazine, Amy Niederberger Weiss shares the details of her experiences with breast reduction surgery, and why she decided to have it done. Amy explains that she was a late bloomer, but when her breasts did begin to develop, they grew by a cup size each year from seventh grade until her final year of college. She had to live with 34I breasts, which added about eight to 10 pounds to her chest.
Amy was constantly hunched over, had terrible back pain, and felt more self-conscious than ever. She had trouble finding bras in her size. In fact, she had trouble finding any clothes that would fit her properly.
Finally, at 22 years of age, Amy decided it was time to liberate herself before her back problems became debilitating.
The surgery was supposed to take four to five hours, but took seven because of the sheer amount of tissue that had to be removed.
Amy also had liposuction in her underarm area. She spent the first night in the hospital. Her recovery was tough, but she had her boyfriend, family, and friends to take care of her.
Despite the difficult recovery, Amy has no regrets about having the surgery. She's now a C-cup, and is pain-free and confident.
"It happened… I could not take the Big Boob Syndrome anymore."
Dana Vento is another breast reduction success story who decided to share her experiences on her personal blog. Dana had large breasts for much of her life, but didn't reach her breaking point until after she had children. After childbirth and breastfeeding, her cup size went from a DD to an F.
Her large breasts made Dana miserable. She says that she lost interest in the activities she used to enjoy, like gardening and home improvement projects. Like Amy, Dana also developed severe health problems: Skin infections under each breast that refused to heal. Her dermatologist finally told her to see a plastic surgeon before the infection spread to the bloodstream.
Dana also had a strong support system in place after her surgery. And while her recovery wasn't exactly a vacation, it was manageable. She was able to resume light activities fairly quickly.
Become your own success story
No breast reduction patient goes through exactly the same experiences as others. Your concerns are unique, and you need a plastic surgeon who will give you the personalized care you deserve. If you live near New York City, schedule a one-on-one consultation with Dr. Thomas Loeb, board-certified plastic surgeon. Dr. Loeb has been widely acclaimed for his clinical skills and sense of artistry. Request your appointment for breast augmentation or breast reduction today by calling Dr. Loeb's Manhattan office at 212.327.3700.
Learn more about these breast reduction personal stories:
Women's Heath, How Getting Breast-Reduction Surgery Changed My Life for the Better, http://www.womenshealthmag.com/health/i-had-breast-reduction-surgery
Dana Vento, Story of How a Breast Reduction Changed My Life, http://danavento.com/story-of-how-a-breast-reduction-changed-my-life/