Hitting the Beach this Summer? Check Out These Last Minute Beach Body Tips
Jacky Gale | June 1, 2018 | Posted in
Body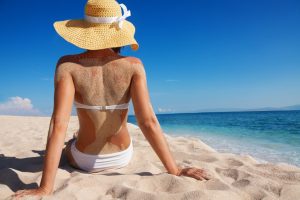 After a winter in the city, the idea of soaking in the sun on a tropical beach somewhere far away is especially appealing to New Yorkers. Beach vacations can be relaxing, but only if you feel confident with the way you look in a bathing suit. It's not too late to try some last minute tricks to shape up your beach body!
Tone your trouble spots
Everyone has a trouble spot… or two or three. Whether it's your hips, arms, or tummy, chances are, it's bothering you when you wear a bikini. While it's not possible to target fat loss with diet alone, it is definitely possible to target your toning efforts. And the more muscle you have in an area, the less jiggly it will be. Consider signing up for a boot camp-style workout class if you've got at least a week or so before your vacation. Or, you could pop in a workout DVD at home to squeeze in some muscle-building routines whenever you can fit them into your busy schedule. Try Pilates to build your core or ballet-derived exercises for strong, lean legs.
What to do at the very last minute
You made it to the airport (on time!), reached your destination, and checked into your hotel. You're eagerly anticipating hitting the beach the next morning, but you're worried about belly bloat. It happens, and it's usually due to sodium. It often happens to travelers because of the salty snacks served on planes. Just ignore the peanuts, skip the alcohol, and sip water instead. At meals, skip cruciferous vegetables. While broccoli, cauliflower, kale, and Brussels sprouts are great selections for a healthy diet, they do cause temporary belly bloat.
What NOT to do at the last minute
Showing off a great beach body can sometimes lead to unintentional, embarrassing reveals. Like body hair. It happens, but whatever you do, don't schedule a wax session right before your trip. If you have sensitive skin, the redness can last up to a few days. Instead, arrange your schedule accordingly and deal with your unwanted hair in advance.
What to do if you've got a few weeks before you go
Most procedures you can get at a plastic surgery office do require a little recovery time, even if they're minimally invasive. But if you've got a month or so before you leave for your beach vacation, schedule an appointment pronto. There may be enough time for you to have CoolSculpting—a non-invasive procedure—or BodyTite—a minimally invasive procedure. These are safe and effective body contouring treatments that can minimize unsightly bulges and sculpt a sleek silhouette.
While you're there, consider asking about other body contouring procedures that might not help you with last minute changes, but could be a great choice for long-term results. Dr. Thomas Loeb offers a full suite of body contouring procedures in Manhattan. Could a Brazilian butt lift, arm lift, tummy tuck, thigh lift, or liposuction help you get your ideal beach body for next summer and beyond? Call Dr. Loeb's office at 212-327-3700 to request your consult.
Additional resources for body contouring:
Elle, 14 Ways to Get Bikini-Ready in 24 Hours, https://www.elle.com/beauty/health-fitness/advice/a14626/last-minute-bikini-body-tips/
Shape, Last-Ditch Bikini Prep Tips, https://www.shape.com/lifestyle/beauty-style/last-ditch-bikini-prep-tips