Breastox – The New Botox Breast Lift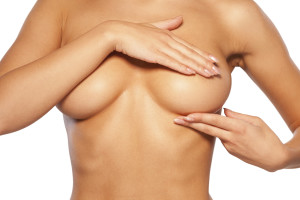 It's been dubbed the "Botox boob job", and promises women with sagging breasts an instant lift with no surgery, no scars and zero downtime. This lunchtime procedure has gained traction in the UK, where some plastic surgeons claim it can even boost cleavage by a whole cup size! Back across the pond, the American Society of Plastic Surgeons has raised some red flags about the longevity and effectiveness of a Botox breast lift, also known as "Breastox".
What is Breastox and how does it stack up against a surgical breast lift? Can it really address post-pregnancy drooping and offer patients a perkier bust line? NYC plastic surgeon Dr. Thomas Loeb answers some of these frequently asked questions.
What is Breastox?
This breast-lifting procedure uses Botox injections to temporarily halt muscle contractions in strategic pectoral muscles. An average of 12 injections is usually needed. Once these chest muscles are temporarily paralyzed, it forces other surrounding muscles in the shoulder area to contract, which gives the breasts a subtle lift. A numbing cream is rubbed into the treated area beforehand, making this a pain-free treatment that involves no incisions.
Botox has been FDA approved for decades, and carries few major side effects. Because Breastox is a relatively new technique, there have been no reports of serious complications or adverse reactions, though some in the medical community question its value given the short duration of Botox, which loses all potency within 6 months.
In reality, most women could expect their Botox breast lift to last closer to three or four months, which may prove a costly endeavor if repeated over the years.
Botox breast lift – are you a candidate?
This non-invasive treatment is only recommended for women who have minimal signs of sagging and are no larger than a C cup. Patients with more voluminous cleavage would see little effect with Breastox, considering the injectable does not correct the problem of damaged muscle tissue and excess skin.
Some ASPS member surgeons are voicing their concerns about this procedure, however trendy it may be, claiming that outcomes are not remotely comparable to traditional breast augmentation surgery. Botox breast lifts can be expensive – with some surgeons charging upwards of $1,500. This may be a quick fix to get your bosom wedding ready, but for the vast majority of women, a breast lift promises better and longer lasting results.
New York breast lift surgeon
"Botox injections are safe and effective for numerous cosmetic and medical purposes, but a breast lift is not one of them," says Dr. Loeb.
"Moreover, a surgical breast lift addresses key problems like sagging skin that Botox cannot."
Along with many of his peers, Dr. Loeb feels that more research must be performed to accurately assess the long-term success rates of this breast lifting procedure. In the meantime, he offers his patients a comprehensive menu of cleavage-enhancing surgeries, including:
To book a private consultation with world-renowned surgeon and breast surgery specialist Dr. Loeb, please call his 5th Avenue office at 212-327-3700.