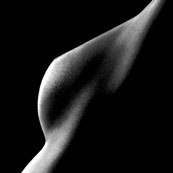 If you're having breast enhancement or breast reconstruction surgery, you have three excellent implant types to choose from: saline, silicone or gummy bear implants. Highly cohesive or form-stable implants have been coined "gummy bear" implants due to their firm yet pliable consistency that maintains their shape when opened, unlike the more liquid silicone gel implants.
In 2012, the FDA approved the first high-strength cohesive gel implants in the United States, which have been available abroad for decades. The implants are approved for breast reconstruction surgery and breast augmentation in women 22 years of age and older. Made by Sientra, Allergan and Mentor, gummy bear implants have gained widespread popularity in the last few years thanks to their unique makeup, which ensures natural looking results.
Featuring an anatomical tear drop shape and inferior pole projection, gummy bear implants promise a customized fit for women who desire a more dramatic bust line. Dr. Loeb will help you choose the best size and type of form-stable implant, based upon your current measurements and aesthetic goals.
Advantages of gummy bear implants
The choice between tear drop shaped gummy bear implants versus silicone or saline comes down to personal preference.
Form stable implants do offer some advantages, including:
Lower risk of rippling and visible folds
Less risk of capsular contracture
Lower risk of rupture
More natural looking breast profile
Less change in shape
Not prone to shifting
Highly cohesive gel implants are more durable
Fewer reports of adverse scarring
Additionally, gummy bear implants are made with a textured outer shell that helps prevent rotation. Because of their high-strength cohesive gel, these implants are less inclined to rupture and would not leak in the event of a rupture. However, patients should be aware that form stable implants may require a bigger incision than would be used for saline implants, which are filled after they're inside the body.
In short, form stable implants are wonderful options for women who want a very natural breast enhancement and do not want extra fullness in the upper pole of the breast.
Procedure
One notable caveat with form stable implants is incision placement. Saline and traditional silicone implants can be placed through the armpit, the areola or via an inframammary fold (an incision beneath the breast). Because gummy bear implants are more solid and less conforming, they cannot be placed through smaller incisions. This means that in the majority of breast augmentation procedures, they can only be inserted through an inframammary crease incision, which is marginally longer.
The entire procedure typically lasts 60-90 minutes and is performed under general anesthesia in Dr. Loeb's fully-accredited surgical suite.
Risks and recovery
Gummy bear implants have a long record of safety overseas, and have not been associated with serious complications during their time on the U.S. market. However, like all surgical procedures, possible risks can include adverse reactions to anesthesia, infection, diminished nipple sensation, impaired wound healing and asymmetry.
You can expect bruising, swelling and some discomfort for the first few days after the surgery. Dr. Loeb may prescribe antibiotics and medication to help mitigate any pain. Patients are advised to refrain from vigorous physical activity for at least 4-6 weeks, during which time a special supportive bra must be worn. Inflammation and bruising typically subsides quickly and most patients are back to work in four to five days, or as soon as they feel comfortable.
If you are planning on having children and breastfeeding, gummy bear implants should not interfere with this decision. Dr. Loeb will thoroughly discuss breast augmentation procedures in relation to breastfeeding, to help patients make informed decisions.
Related procedures
Dr. Thomas Loeb is a board certified NYC plastic surgeon and has been performing breast implants in Manhattan for nearly 20 years. In addition to enhancement with gummy bear implants, he also specializes in:
Breast asymmetry correction
Areola reduction
Breast lift, and
Breast reduction surgeries.
Among his New York and fly-in patients, Dr. Loeb has observed a trend toward more form stable breast implants in recent years as women learn more about their advantages and safety profile. To learn more about breast augmentation with Dr. Loeb or to schedule a private consultation, please call his Fifth Avenue office at 212.327.3700.