The Eyes Are the Windows to the Soul: What Do Yours Reveal?
Jacky Gale | September 2, 2016 | Posted in
Facelift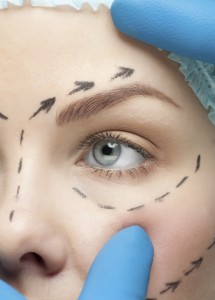 The saying, "The eyes are the windows to the soul" has been attributed to many people, but William Shakespeare arguably said it best in "King Richard III." Granted, this saying is more of a literary device than a statement based in fact, but it is certainly true that a person's eyes can speak volumes about that individual's personality and character. The eyes can even reveal whether a person's smile is genuine or not (if it is, the eyes crinkle slightly).
So what do your eyes reveal about you? Perhaps they're chronically tired, with ever-deepening bags underneath. Perhaps your puffy lower lids make you look older than you actually are.
Getting a good night's sleep can help one's appearance a little, but it can't undo years of damage to one's facial aesthetics. Fortunately, cosmetic surgery holds the solution.
Considering an eye lift
An eye lift, or blepharoplasty, is also known as eyelid surgery. It's particularly popular among people who are frustrated by the appearance of puffy lower eyelids and drooping upper eyelids. The end result of this remarkable cosmetic surgery is an "opened up" appearance of the eyes, making the patient look younger, refreshed, and energized.
An eye lift is often performed under general anesthesia, but some patients opt for conscious sedation. Depending on your needs, your plastic surgeon may operate on the lower lids, the upper lids, or both in the same procedure. During an operation for the upper eyelids, the surgeon will make very tiny incisions in the crease of the lid to eliminate excess skin. Sometimes, very small amounts of fat are also removed. Lower eyelid surgery also involves removing excess skin and — depending on the patient — removing tiny amounts of fat.
By themselves, both of these eyelid procedures yield a more youthful appearance. However, many patients opt to combine eyelid surgery with laser skin resurfacing for even more dramatic results.
Taking a closer look at the brow lift
A brow lift or forehead lift can elevate the sagging appearance of eyebrows that may be crowding the upper eyelids. This allows the patient to assume a more alert, youthful countenance. A brow lift can even address the deep horizontal lines across the forehead and the frown lines between the eyes.
There are several different approaches a surgeon may take for a brow lift. But in general, this surgery will reposition the underlying tissues to elevate them and remove excess skin.
NYC plastic surgeon
Dr. Thomas W. Loeb is a world-renowned Manhattan plastic surgeon who has earned a reputation for producing natural-looking results. During your one-on-one consult with Dr. Loeb, he will listen carefully to your aesthetic goals and concerns, and develop a customized set of treatment recommendations that are appropriate for you. Among his many facial surgery procedures, Dr. Loeb performs eye lift surgery, brow lift surgery, and facelifts.
Call Dr. Loeb's Fifth Avenue office today at 212-327-3700 to get started becoming a younger-looking you.