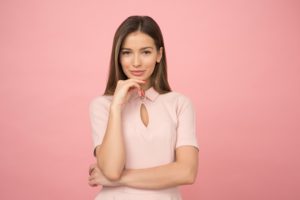 Want all the rejuvenating effects of a mint lift in NYC without the surgery, cost, and downtime? A new threadlift  on the market known as the Minimal Invasive Nonsurgical Thread (MINT) Lift may be the right choice for you. The new FDA approved absorbable threads used in the MINT Lift has been proven to have stronger lifting power and longer lasting results than a traditional threadlift.
What Is a MINT Lift?
The threadlift gained popularity for being a minimally invasive and less aggressive alternative to a traditional facelift. Its lower cost has also added to its appeal, but now an even less invasive iteration of this procedure has been put into practice. The Minimal Invasive Nonsurgical Thread (MINT) Lift is a non-surgical procedure performed on the mid-face. Just like a regular threadlift, it corrects indications of age, such as sagging skin, by restoring a v-line and sharper jaw line. No scarring occurs as a result of a MINT lift, as no incisions are required. The unique biodegradable material used in this procedure is FDA approved and dissolves completely. This type of threadlift is known to have minimal side effects, allowing the patient to return to their normal routine almost immediately after their procedure
What makes a MINT lift unique is the type of thread used in the procedure. As the only FDA approved PDO threadlift, MINT threads use arrow-shaped molded barbs which are arranged in a helical configuration. This allows the thread to hook onto the tissue it is lifting in a 3-dimensional fashion. This gives it up to four times the tensile strength of other PDO threads produced and takes longer to dissolve over time.
What areas can be treated with a MINT Lift?
The MINT lift has become popular due to its accessibility, minimal downtime and long lasting, beautiful results. Dr. Loeb can use this procedure to treat many areas, including:
Cheeks (lifting)
Nasolabial Lines (reduced)
Marionette Folds
Fine Lines
Jaw Line (slimmer, v-shaped)
Double Chin (reduced, tightened)
MINT lift procedure
Similar to other threadlift procedures, the face is cleansed and prepared with local anesthesia on an outpatient basis. The absorbable threads, which have replaced permanent suture materials, are inserted with a fine needle or cannula (blunt needle) by the plastic surgeon. The threads then lift and tighten the tissue under the skin, eliminating the need for scalpels, incisions or anything that would cause scarring.The biodegradable thread used lowers the patient's risk of infection and potential complications.
There are more immediate visible results in a MINT lift compared to a traditional threadlift due to the strong lifting and pulling power of the PDO thread used. You can expect the procedure to be completed in an hour or less.
MINT lift: how long does it last?
A MINT lift produces instant visible results, and the final effects are noticeable within 14 days. Results can last anywhere from 12 months to 3 years, and threads can be added later to freshen up the lift.
MINT lift side effects
Though MINT lifts have a high success rate across the board, minimal side effects, such as bruising, swelling, and tenderness may be present following the procedure. This is normal, and symptoms normally dissolve within a couple of days. Major complications are rare and can include asymmetry, infection, edema and skin dimpling/puckering. These uncommon side effects can be minimized by making sure the procedure is performed at the hands of an experienced and professional surgeon. It is helpful to request before and after photos before the procedure so you know what the recovery period should look like, and discuss realistic expectations of what the procedure will do for you.
Patients may be advised to use ice compresses and take pain relievers as needed for the first couple of days. Strenuous exercise and prolonged exposure to the sun should be avoided for two weeks. Follow the post-procedure care instructions provided by your doctor.
Procedure cost
Average MINT lift costs depend on the number and size of areas being lifted and the expertise and location of your plastic surgeon. While prices can vary, the cost is significanly less than that associated with facelift surgery.
MINT lift near me
Even though the MINT lift is minimally invasive, it requires the expertise of a reputable, knowledgeable and well-trained plastic surgeon dedicated to producing safe and natural-looking results.
If you're interested in a non-surgical face lift with a leading New York plastic surgeon, we invite you to schedule a one-on-one consultation with Dr. Loeb in his Manhattan or Great Neck office.
Additional  Resources: