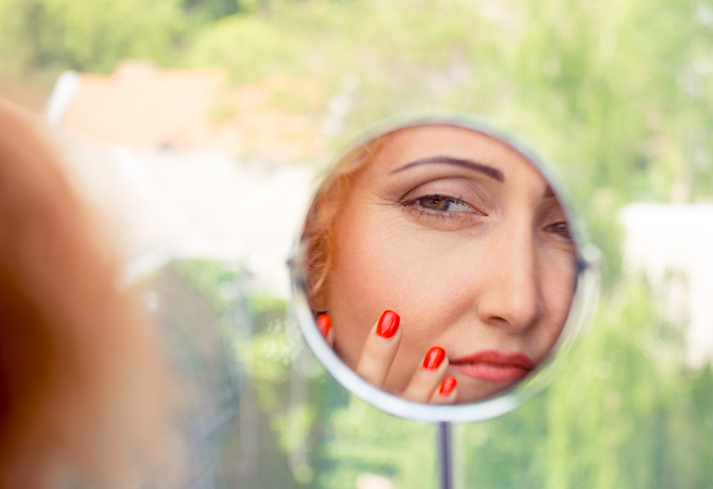 Nasolabial fold lift surgery is recommended when injectable fillers, laser skin resurfacing, and other minimally-invasive procedures will not provide a desired long-term result. Surgical excision is an extremely effective way to reduce the appearance of deep "parentheses" that bother so many people.
Whether you call them "smile lines," or "laugh lines" these creases can deepen with age, producing obvious shadows. Surgical correction offers a permanent solution, but it's important to consider the potential risks and recovery process before committing to any kind of plastic surgery.
The decision to have nasolabial fold surgery in NYC comes with a lot of responsibility. It is an outpatient surgery that is well-tolerated, but it also requires some downtime. Dr. Thomas Loeb explains what to expect and how to prepare for a nasolabial fold lift recovery.
Nasolabial fold lift recovery in NYC
If you're looking for a lunch-time procedure with minimal recovery, nasolabial fold surgery is not it. Any surgery that revises facial tissue can take several weeks to fully heal. While the surgery itself is straightforward, patients should anticipate some residual swelling and bruising. The procedure is performed in our surgical suite under local anesthesia. Unlike general anesthesia which carries the risk of an allergic reaction, local anesthesia is much safer and doesn't make you groggy or nauseated afterward.
It's advisable to take at least 10 full days off of work for the surgery. Most patients will experience some moderate tenderness, bruising, and swelling in the area for the first week. Stock up on some good books or plan on binge-watching your favorite shows during the recovery process. It may be three or even four weeks before all swelling is gone.
You can camouflage bruises with makeup, but inflammation may be harder to conceal. Our best advice: don't rush to get back to your normal routine. Take the time to rest, eat healthfully, and focus your energies on healing.
Nasolabial fold lift recovery tips
Mild bruising, swelling, and tenderness can be expected in the first few days after your surgery. Follow all post-operative instructions and alert our office if you have any concerns or questions. The incision lines may be slightly itchy, but resist the urge to scratch. You may be provided with an antibiotic cream or other salve to help expedite the healing process.
Recovery tips for a nasolabial fold lift:
Plan ahead: take 10 days off for your recovery
Make arrangements for child care and household help as needed
Prepare and freeze some healthy meals before your surgery
Stay hydrated
Avoid sleeping on your face, prop yourself up with 2 pillows
Take arnica as instructed to reduce bruising
Take pain medications and antibiotics as prescribed
Try to refrain from alcohol and tobacco as both weaken the immune system
Do not wash your face or incision lines for at least 24 hours
Practice good wound care as advised
When in doubt, ask your doctor or staff before heading home
Serious complications are rare, but they can happen. Call our office if you experience bleeding along the incision lines, fever, signs of infection, or unusually severe pain.
How to minimize scars
In a nasolabial fold lift surgery, the incisions are carefully placed to minimize the appearance of scars. After the incisions have healed shut, you can take some additional steps to ensure an aesthetically-pleasing outcome, where scars are virtually imperceptible.
Apply a silicone-based cream or gel over the incisions
Use SPF 50 mineral sunblock to prevent scar hyperpigmentation
Wear wide-brimmed hats when outside
Apply Vitamin E gel
Wash your face gently and avoid excessive tension or pulling on the scars
Questions about nasolabial lift surgery recovery in NY?
For more information about nasolabial lift surgery with Dr. Thomas W. Loeb, we invite you to contact our Fifth Avenue office to set up a private consultation. You can also send an email, or reach out using our online contact form.