How Much Liposuction is Safe?
Ava Lawson | September 14, 2015 | Posted in
Liposuction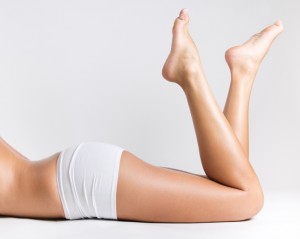 Increasing numbers of patients are turning to liposuction when diet and exercise have failed. This minimally-invasive procedure quickly removes fat tissue from problem areas, sculpting and slimming the body's contours. Lipo is ideal for spot-reducing targeted body parts, from the abdomen and flanks to your thighs, back and arms.
Whether you're seeking a post-pregnancy tune up or simply want to eliminate a few stubborn pounds in a targeted area, it's important to have realistic expectations about what liposuction can and cannot accomplish. The best candidates are patients over the age of 18 who are in good health and within 10-15 percent of their ideal body weight. Lipo is not designed for drastic weight loss, but rather eliminating deposits of fat that have not responded to healthy lifestyle changes.
Another important question worth asking is how much liposuction is considered safe? Over the years there has been much debate over this topic, though current ASPS guidelines state that five liters is considered a "large-volume" lipo and associated with a greater risk of complications.
However, the results of a new study question the validity of this guideline and suggest that a patient's body mass index (BMI) is a more relevant tool for calculating a safe volume of fat removal.
Study says liposuction threshold based on body mass index
The study's findings were published this September in the medical journal, Plastic and Reconstructive Surgery. Authored by Dr. John Y.S. Kim of Northwestern University and colleagues, the report finds that obese patients typically tolerate larger volumes of liposuction without experiencing an increased risk of post-op complications, and presents the notion of "relative liposuction volume threshold" centered on BMI.
Dr. Kim and his team of researchers looked at more than 4,500 patients who had liposuction performed, pulled from the American Society of Plastic Surgeon's "Tracking Operations and Outcomes for Plastic Surgeons" (TOPS) databank. During the assessment, they evaluated each patient's complication risk in relation to the volume of fat removed, while taking into account the patient's BMI.
The results demonstrated that patients with higher BMIs who had high volume liposuction actually experienced lower rates of complications. In all of the studied patients, the average amount of fat suctioned out was two liters, and the most common complication was fluid retention (seroma), which required temporary drains.
The study also showed that patients with a lower body mass index experienced a "more exponential increase in risk" during lipo with high volumes of fat removal. Kim's research was novel in that it presented a correlation between a patient's BMI (which shows the preexisting fat amount) and safe amounts of liposuction.
The findings suggest there is no upper limit on liposuction volumes, as this will greatly depend on a patient's BMI.
Body contouring in Manhattan
To learn more about liposuction and body contouring benefits, risks and costs, or to discuss other types of plastic surgery procedures, please call 212-327-3700 to schedule a one-on-one consultation with Dr. Thomas Loeb.
A highly experienced New York City plastic surgeon, Dr. Loeb performs various types of liposculpting procedures in his Fifth Avenue surgical suite.