Why Is Liposuction Surgery So Popular?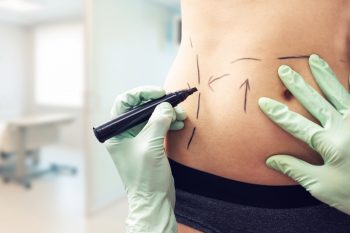 The popularity of liposuction surgery is on the rise. The number of cosmetic surgical procedures performed by plastic surgeons in 2019 was about 1.8 million. According to the American Society of Plastic Surgeons (ASPS), 265,209 of those procedures were liposuctions. This places liposuction well within the top five of the most commonly requested plastic surgeries. In fact, the procedure had a 3% rise in popularity compared to the previous year. Liposuction has long remained one of the most popular of all plastic surgeries. And if you have unwanted pockets of fat, you can probably guess the reason why it is so popular.
Liposuction is extraordinarily versatile
One reason for the popularity of liposuction is its versatility. It can reduce fat deposits in multiple areas, from the ankles to underneath the chin. Love handles, the abdomen, buttocks, thighs, and upper arms are also commonly requested areas for liposuction, as are the back and the calves.
Liposuction permanently removes fat cells
The plastic surgeon creates small incisions during the liposuction procedure and inserts a small, thin cannula, which is a tube-shaped instrument. The instrument removes fat tissue from the body. Once these cells are removed, they do not come back. This benefit of liposuction is quite appealing to patients. Do note, however, that while fat cells cannot grow back, the remaining fat cells can potentially grow larger. This can be good motivation to stick to a healthy diet and exercise plan to maintain your results.
Liposuction provides natural-looking results
Another reason why liposuction is so popular is that the results look completely natural. The plastic surgeon can use it as a tool to gently sculpt the body, reducing fat deposits while creating desirable curves. Modern plastic surgery patients typically prefer subtle results that enhance one's natural beauty– instead of dramatic results that indicate that the person has had work done.
In addition to traditional liposuction, plastic surgeons also routinely perform next-generation SmartLipo, which uses laser technology for a gentler liposuction experience. BodyTite and cryolipolysis are other popular fat reduction treatments to consider.
Liposuction is an effective way to treat many cases of gynecomastia
Gynecomastia is a common condition that affects men. It involves the enlargement of the breast tissue. There are many possible causes of it, such as hormonal changes, medications, alcohol use, and certain medical conditions such as hyperthyroidism. Regardless of the reason, liposuction is an effective solution.
Although gynecomastia is not typically a medically serious condition, it can significantly affect a man's self-confidence. It can also be challenging to find clothing that fits in a flattering way. Liposuction provides a way for men to reclaim their self-confidence.
Schedule a consult for liposuction in Manhattan, NYC
You can find out for yourself why so many people are happy with their decision to undergo liposuction surgery. Schedule a confidential consultation with Dr. Thomas Loeb, a board-certified plastic surgeon with extensive experience and a long track record of satisfied patients.
Additional resources on liposuction
American Society of Plastic Surgeons, 2019 Plastic Surgery Statistics Report, https://www.plasticsurgery.org/documents/News/Statistics/2019/plastic-surgery-statistics-full-report-2019.pdf