Plastic Surgery: Trending Valentine's Day Gift?
Jacky Gale | February 9, 2018 | Posted in
News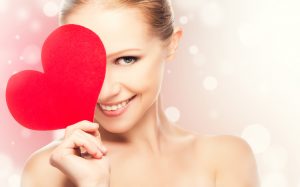 There's nothing wrong with giving flowers or jewelry to your paramour for Valentine's Day, but many modern couples prefer to think outside the box of chocolates. According to the American Society of Plastic Surgeons, a recent survey found that 32% of women are receptive to the idea of receiving plastic surgery as a gift. Twenty-seven percent of them wholeheartedly embrace this gift idea. Gifting plastic surgery isn't just for the ladies, either. Twenty-six percent of men surveyed are open to the idea of getting cosmetic enhancements as a gift, and 20% of men who responded to the survey would enthusiastically welcome it.
The intentions behind the gift
The gift of plastic surgery requires much more forethought and planning than going to a jewelry store to shop for earrings. First, consider your partner's likeliest response to the gift of plastic surgery. Some recipients would misinterpret the gift as an indicator that their partner would be more attracted to them if they looked a little different—even if this wasn't the intention at all. This is a definite downside that can lead to relationship trouble.
Fortunately, there are some easy ways of determining whether your better half would welcome the gift. If your partner has previously hinted that a little Botox or liposuction would be welcome, then this is a clear indicator that your gift would be well-received. Or perhaps your partner has been upset about a particular body part, like the ears or nose, for years, but has been too busy taking care of everyone else to do something about it. If this is the case, then the gift of plastic surgery could be a dream come true for your partner—and one that they will always remember.
Quick tips for plastic surgery gifting etiquette
Since gifting plastic surgery can be a sensitive issue, do make sure you're following appropriate etiquette. Reassure your loved one that you love them exactly as they are, but that you know how much those wrinkles or love handles have been bothering them. Let your loved one research plastic surgery choices and plastic surgeons to ensure complete comfort with the process. Additionally, your partner should go to the consult with the doctor by themselves.
Favorite procedures to gift
Every plastic surgery patient has unique goals and expectations. Some people would be ecstatic to receive a round of Botox injections as a Valentine's Day gift, while others would prefer a labiaplasty. However, plastic surgeons do see some common trends in cosmetic gifts. Liposuction, facelifts, and tummy tucks are among the most commonly gifted surgeries. It's also quite popular among couples to give non-surgical, minimally-invasive cosmetic enhancements. Aside from Botox, dermal fillers, lip augmentation, BodyTite, laser skin resurfacing, Ultherapy, and dermabrasion are some popular choices.
Dr. Thomas Loeb is available for confidential consultations at his office in Manhattan, NYC. As a renowned, board-certified plastic surgeon, Dr. Loeb prides himself on his thorough preparatory processes. After verifying that the patient has reasonable expectations and is having surgery for themselves, not for others, Dr. Loeb will craft a custom-designed treatment plan to produce artistic results. Call to request an appointment in New York City today.
Additional resources for gifting plastic surgery
American Society of Plastic Surgeons, Giving plastic surgery as a gift, https://www.plasticsurgery.org/news/blog/giving-plastic-surgery-as-a-gift
Allure, Gifting Plastic Surgery During the Holidays—a Growing Trend, https://www.allure.com/story/gifting-plastic-surgery-for-the-holidays