Dating Over 50: 4 Things No One Tells You
Jacky Gale | February 2, 2018 | Posted in
Skin Care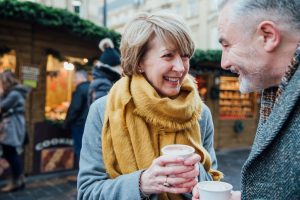 At any age, dating can seem like navigating a minefield. You probably still remember your first date. Or at least, you probably remember the sweaty palms and curfew rules. You might think those initial, nerve-wracking experiences have more than prepared you for dating later in life, but dating past your 50th birthday is a whole different ballgame. It has its own ups and downs, and you'll learn how to navigate it as you go.
You have greater life experience… but not necessarily greater self-confidence
By this point in your life, you know what it's like to hold down a job—or two or three—pay your bills, mourn the loss of loved ones, and perhaps raise kids. You've been through a lot, and no matter where your life has taken you, you've managed to get back on your feet again and turn the page to a new chapter. All that life experience should translate to emotional stability, but this isn't the case for plenty of folks. You might still struggle with the same hang-ups you did when you were fresh out of college.
From that odd bump on your nose to the stubborn "fullness" under your chin, it can be tough having self-confidence when you aren't at all confident with your looks.
Now that you're over 50, you don't have to ask anyone's permission to do something about your cosmetic concerns. Go ahead. Talk to a plastic surgeon, and hear what he or she has to say about your choices. And there are plenty of them—these days, there are more innovative, minimally invasive plastic surgeries to choose from. There's no shame in doing something nice for yourself to help you look the way you feel.
You're set in your ways… and so are they
At this point in your life, you know what you like and what you don't. You have well-established routines, and you like the things in your life to be a certain way. The potential partners you meet will be the same way. You might have a thing for liver and onions, and that might horrify your date. That's okay. Because at this point, both of you should have the maturity to know that people with different likes can still be compatible. In fact, some psychological research suggests that people who hate the same things are more compatible than people who like the same things.
You're out of practice… but so are they
No matter how many first dates you went on earlier in your life, you're probably out of practice by now. Plus, with age comes a whole new set of etiquette snags to discover. Recognize that you and your date are both out of practice, and try to be forgiving if your date goes on for hours about their ex-partner, why the divorce happened, how the person died, or what their kids are doing these days. Go on a second date anyway, and you might just be pleasantly surprised.
Settling for good enough… isn't good enough
Your biological clock is no longer ticking. You know (or should know) that it's okay to live alone and to be independent. There's no need to rush into another steady relationship or marriage. If you find yourself building a relationship for no other reason than you think you ought to, it's time to reconsider whether that person is truly right for you.
When you're ready to get back out there, but you need a little more self-confidence to let your true personality show, you can schedule a one-on-one consult with Dr. Thomas Loeb of Manhattan. As a board-certified NYC plastic surgeon with a long track record of performing safe, artistic facial surgery procedures, Dr. Loeb has helped countless patients reclaim their self-esteem and self-confidence. Call Dr. Loeb's Fifth Avenue plastic surgery office at 212-327-3700.
Additional resources for dating over 50:
Today, Flirting, compliments and waiting for sex: 6 rules for dating after 50, https://www.today.com/health/dating-after-50-waiting-sex-5-other-rules-1D80015015
The Telegraph, 10 things you only know when you're online dating in your 50s, http://www.telegraph.co.uk/women/life/10-things-know-online-dating-50s/