What Does It Mean to Be a Board-Certified Plastic Surgeon?
Loeb Staff | September 29, 2022 | Posted in
News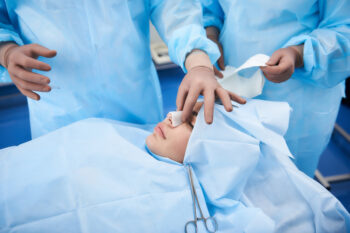 Whether you're planning a breast augmentation or rhinoplasty, here's everything you need to know about a board-certified plastic surgeon. Although plastic surgery is elective, it can still produce life-altering results. If you've ever seen a botched surgery, you know that your choice of surgeon can make or break your outcome. Unlike other specialists, board certification isn't a requirement for cosmetic surgeons. However, it is essential to choose the right surgeon because it ensures a safe procedure to attain your aesthetic goals.
What Is a Board-Certified Surgeon?
A board-certified plastic surgeon is certified by the American Board of Plastic Surgeons (ABPS), which is recognized by the American Board of Medical Specialties. To obtain ABPS certification, a doctor must complete at least six years of surgical training after medical school and three years of plastic surgery residency. As a highly-skilled physician with a wide range of expertise, Dr. Loeb achieved board certification from the ABPS in 1988. In addition, his NYC plastic surgery center maintains full accreditation from the American Association for Accreditation of Ambulatory Surgery Facilities, New York State Medical Society, and Queens County Medical Society.
Moreover, Dr. Loeb earned an undergraduate degree with honors from Northwestern University and studied at the Washington University School of Medicine. He graduated with high honors in 1980. Finally, education remains an ongoing commitment for Dr. Loeb, who regularly attends industry meetings and national training seminars.
Why Choose a Board-Certified Plastic Surgeon?
If you're searching for a plastic surgeon, you may find doctors who have received training in another specialty. However, since plastic surgery is "outside" the traditional medical system (i.e., not typically covered by insurance), it's vital to do your homework and choose a board-certified plastic surgeon. As noted above, it means the surgeon has undergone formal training and education to perform cosmetic surgery safely and ethically.
Choose a Board-Certified Plastic Surgeon in NYC
If you're searching for a board-certified NYC plastic surgeon, look no further than Dr. Loeb. As a world-renowned plastic surgeon with years of experience, he has a long track record of satisfied patients. Dr. Loeb will listen to your aesthetic goals so you can enjoy a natural-looking outcome. Call our office to request your consultation today.
Sources:
American Society of Plastic Surgeons, ASPS Member Qualifications, https://www.plasticsurgery.org/patient-safety/asps-member-qualifications