Three Things I Wish I Knew Before I Had My Nose Job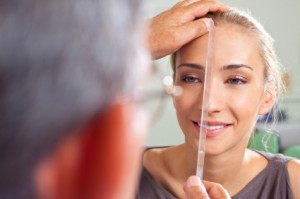 Looking better and feeling more confident are why most people seek out rhinoplasty, but plastic surgeons caution patients to have realistic expectations about nose surgery. "Be prepared for a strict recovery regimen afterwards," explains NYC plastic surgeon Dr. Thomas Loeb, "and also for seeing a face in the mirror that can sometimes seem drastically altered. Patients' before and after response to rhinoplasty is often difficult to predict."
Sometimes a patient may be surprised by the results – and not always in a good way. "Right after your new nose is revealed, you may feel a sense of disappointment or even horror," cautions RealSelf community manager "Angie."
In one study by American Society of Plastic Surgeons member Mark Constantian, MD, it was found that 97 percent of patients were happy with their eventual outcomes, but nearly three-quarters of the patients had deformities that weren't corrected by the original surgery and required revision work.
So what do rhinoplasty patients wish they had known before going under the knife? Here, some share their experiences:
1. Getting a new nose shocked me, but not so much everyone else.
After a rhinoplasty procedure, a popsicle-stick-like splint is placed over the bridge of the nose, along with packing in the nostrils. According to RealSelf forum manager Angie, the end result looks something like a "mummy." Angie explained that she "felt like a pug" and suffered a bit of dysmorphia when the bandages first came off. "You don't look exactly like yourself and that can feel strange."
Kate Dobinson, content editor for the UK Telegraph recalls, "Excited, I peeked a look beneath the scaffolding sooner than I should have done. My nose looked like a fat little sausage, long swollen and pink. I tried to ignore the sinking feeling in my stomach and the panic in my throat. I had imagined that that I would be transformed, my face entirely symmetrical and at the risk of sounding shallow, prettier. But, the voice in my head whispered, it looked worse."
Both rhinoplasty patients say they were shocked to find that many people didn't even notice they'd had anything done. Kate Dobinson said she was looking for surprise and admiration when she first revealed her new look to a university colleague, but instead, the response was, "Oh. You don't look any different."
Kate says she learned that other people's perceptions differed from her own, and that "you will never attain the perfect image of yourself."
2. Expect to make a few post-op lifestyle adjustments.
"It's possible you'll feel almost no pain after your rhinoplasty, especially if you stay on top of your meds," says Angie from RealSelf. However, she concedes to having a "nasal twang" to her voice for nearly a month that she wasn't expecting.
A few lifestyle changes will be necessary to ensure the best recovery. According to the Ear, Nose & Throat Center of Utah, patients should make the following adjustments to their daily schedules:
Don't blow your nose for two weeks.
Don't laugh too hard or smile too wide.
Do not exercise vigorously for at least two weeks and avoid contact sports for six weeks.
Don't eat foods (like steak) that require heavy chewing.
Don't brush your teeth aggressively.
Don't wear glasses or sunglasses for the first month.
Don't pull clothing over your head.
Don't smoke for three weeks.
3. Personal rapport with your plastic surgeon is important.
Dr. Thomas Loeb is the New York City rhinoplasty expert who made national headlines for performing Paula Jones' high profile nose job in 1994.
"Rhinoplasty recovery is a very emotional time for patients," he explains. "As plastic surgeons, we do our best to mentally prepare the patient for the road ahead, but it takes a well-matched doctor/patient relationship to ensure a smooth transition."
Plastic surgery patient "Amy," who chronicled her rhinoplasty and rhinoplasty revision experience at Chicago Rhinoplasty Review, says that she did a lot of research before choosing a surgeon but then ignored several red flags. Though her surgeon was considered an "in-demand" expert in the field, she said her consultations "always felt rushed" and she only later accepted the reality that he hadn't really cared about her as a patient.
Amy says another red flag she ignored was that the surgeon didn't really listen to her goals or concerns during the consultation. "I felt like all I was supposed to do was sit there and listen since he was the expert," she recalls. In the end, ignoring her instincts left her with a nose that was nothing like what she wanted. Even though the surgeon offered to fix it free of charge, she went to a different surgeon, with whom the consultation felt like more of "a two-way street, and not a one-man show."