New York City Women Want Amal Clooney's Nose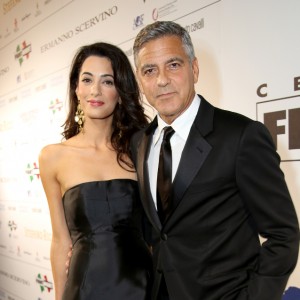 Ever since her whirlwind romance and marriage with Hollywood's most eligible bachelor George Clooney, cosmopolitan lawyer Amal Clooney has captivated the world with both her brains and beauty. The former NYU Law student continues to capture international headlines as much for her human rights activism as for her chic looks and fashion sense. As elite style blog Refinery29 shows us in a recent photo gallery, Mrs. Clooney has not sacrificed her fashion sense for her new visiting professorship at NYC's prestigious Columbia University, gracefully pulling off an all-white ensemble before Memorial Day.
Women using Amal Clooney as the model for their ideal nose
Amal Clooney's spring semester in upper Manhattan has made her an almost daily fixture in the celebrity news media, with top pop culture blogs such as Just Jared keeping New York women updated on Mrs. Clooney's elegantly evolving fashion acumen. But it's not just her style smarts that are making a big impression on New Yorkers, as  plastic surgeon NYC Dr. Thomas Loeb can attest:
"A lot of women are coming in to talk to me about Amal Clooney's nose," reports Dr. Loeb. "It's not so much that they're asking for an exact replica of her nose, but they're using her nose as a model for the sleek but natural-looking rhinoplasty they want for themselves."
Having patients bring in tabloid photos of celebrities is nothing new for Dr. Loeb.
"In this day and age where we are bombarded with magazines and TMZ showing celebrity dresses, clothes, children… it's not very unusual for patients to request a natural nose job like Ashley Simpson's, or request a look from a celebrity they admire. Kate Middleton is a great example."
Beauty blog Moxy reported on the recent trend of New York City women asking their plastic surgeons to give them a nose just like the Duchess of Cambridge's, citing a quote from one pre-med student in her 20s who told the NY Daily News, "When I saw Kate's nose, I just knew it was the perfect nose for me."
Dr. Loeb believes images of "ideal" celebrity features can be a good tool for communication between plastic surgeons and their patients, giving doctors a precise idea of what kind of physical transformation a patient has in mind. But he cautions that patients need to have realistic expectations about what they can – and can't – achieve from a nose job.
"Some patients have realistic expectations and desires and that can certainly involve 'I want a nose like Amal Clooney,' or 'I want eyes like so and so.' But sometimes what they're asking for is unrealistic, and a red flag goes up when a patient requests something that would look terribly unnatural."
Outrageous plastic surgery stories of these kind have become alarmingly common — look no further than the guy in L.A. who spent $100,000 to look like Justin Bieber, as reported by entertainment writer Michele McGahan of PopCrush.
Rhinoplasty NYC helps women enhance their self-confidence
Dr. Loeb sees nothing unhealthy, however, in patients wanting to emulate a strong woman with a successful career to match her sophisticated style.
"Amal Clooney is striking not just because she's stylish or has that classic beauty, but because she projects strength and self-confidence," Dr. Loeb points out. "What's gratifying for me as a plastic surgeon is being able to give my patients that same confidence and self-esteem that pays huge dividends in their personal and professional life."