Dazzle Your Date with Pre-Valentine's Day Skin Enhancements
Ava Lawson | January 31, 2017 | Posted in
Skin Care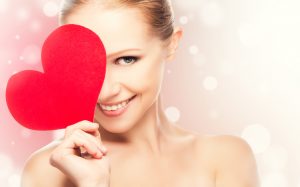 For many of us, holidays are the perfect excuse to pamper ourselves with indulgent spa treatments, shopping sprees and luxury vacations. With Valentine's Day just around the corner, why not treat yourself to some quick, results-driven cosmetic enhancements? Every woman wants to look and feel her best this special time of year, whether she's got a hot date lined up, or simply wants to dazzle her husband with plump, kissable lips.
With a little help from Botox, Juvederm and the artistic eye of NYC plastic surgeon Dr. Thomas Loeb, you can finally take care of those crow's feet, or give your skin a glamorous makeover that is sure to turn heads. Non-invasive injectables and advanced skin treatments promise amazing results with little to no downtime! That means there is still plenty of time to get the perfect pout or glowing, wrinkle-free skin before February 14. Here are some of our top pre-Valentine's Day enhancements that will banish those worry lines and help you feel confident, sexy and beautiful.
Pucker up with lip enhancement
If you've always wanted a plump, sensual pout, but don't want anything too permanent, dermal fillers are your ticket to smoochable Valentine's Day lips. Lips, just like our facial skin, can lose volume as we age, and some people are predisposed to having smaller lips. Dr. Loeb adds volume to lips with Juvederm, a type of hyaluronic acid filler that gives instant results. Besides plumping up thin lips, Juvederm is excellent for filling in downturned mouth corners. As with any type of cosmetic injectable, a little goes a long way toward achieving natural results. If you want youthful, kissable lips in time for Valentine's Day, be sure to schedule an appointment 3-4 days in advance.
Botox – Fall in love with wrinkle-free skin
Brow and worry lines are no match for the wrinkle-erasing power Botox, a purified protein that relaxes muscles, smoothing skin around the eyes, forehead and mouth. Botox injections are quick, painless and can be done on your lunch break! Rediscover youthful, skin by scheduling a treatment at least 4-5 days before Cupid's arrow strikes. While the results can last up to 4-6 months, the full effects don't become noticeable for a few days.
Light chemical peels
Even the best of skin care products are unable to tackle sun damage, pigmentation irregularities and the rough, dry skin that accompanies winter weather. One of the quickest ways to transform a dull, lifeless complexion into pure radiance is with a light chemical peel, using lactic or alpha hydroxy acids (AHA). These agents gently slough off dead skin cells to reveal luminous, fresh new skin – without significant downtime.  While a series of chemical peels will help even out skin tone and take years off your appearance, one treatment is enough to give you glowing, gorgeous skin.  Your skin may be slightly pink for 1-2 days post-peel, but that still leaves plenty of time before your Valentine's date.
Dr. Loeb can help you fall head over heels in love with your skin again! For a private consultation and customized treatment plan, please call today.