What Age Do You First Start Seeing Wrinkles?
Razor Rank | November 6, 2020 | Posted in
Skin Care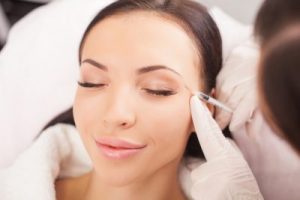 Of course, there's no way to stop making facial expressions! However, there are some steps you can take to lower the likelihood of prominent wrinkles. Quitting smoking is a positive step, as is minimizing the amount of time you spend in direct sunlight. If you need to be outside on a sunny day, make sure that you are wearing a wide-brimmed hat and use sunscreen—including on your face. Following a healthy diet with plenty of fruits and vegetables may also make you less likely to develop wrinkles. Stress has also been linked to wrinkles, so working to reduce the level of stress in your life can help to combat them.
How You Can Treat Wrinkles
If you already have wrinkles, you may wonder if there is anything that you can do to treat them. The good news is that there are several safe, proven, non-invasive treatments that you can use to make your skin smooth and healthy-looking. Dr. Thomas Loeb is a world-renowned plastic surgeon who offers a wide array of state-of-the-art treatments for wrinkles.
The non-invasive skin treatments he offers include Ultherapy, which uses ultrasound-guided heat pulses to spur your body to develop new collagen. Tite-FX is another non-invasive treatment that works by using high-voltage radio pulses to destroy fat cells in your body. This treatment may be used as an alternative to liposuction or used in conjunction with it.
Call today for a consultation
If you are looking for a plastic surgery practitioner in Manhattan, then it's time to call Dr. Loeb's office. As a world-renowned plastic surgeon in New York City, Dr. Loeb is proud to offer the latest and best non-invasive skincare treatments to his patients. If you would like to learn more, contact our office today through our website to schedule an initial consultation.
Additional Resources:
1. WebMD.com, How Your Face Ages, https://www.webmd.com/beauty/features/skin-ages
2. Marie Claire, This Is the Age When You Start to Visibly Look Older, https://www.marieclaire.com/beauty/news/a16636/the-age-when-aging-begins/
3. Insider.com, Does stress cause wrinkles? Yes, it can speed up skin aging, https://www.insider.com/does-stress-cause-wrinkles