Do Lips Get Thinner With Age?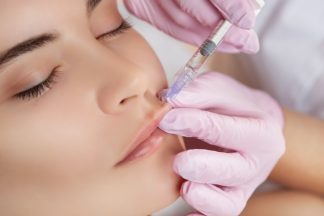 Women and men both tend to prefer voluminous and sensuous lips, but unfortunately, they do tend to lose volume over time. Every person's experience with aging is different, of course. Some people lose a noticeable amount of volume in the lips, while others barely notice a difference. However, there are solutions.
Why do the lips get thinner with age?
If you have naturally smaller lips, you will likely notice that they begin to thin a bit earlier in life, such as in your late 20s to 30s. If you have naturally large lips, it can take a bit longer to notice this. When the lips do start to thin, it's for the same reason that the skin begins to sag later in life– you're beginning to lose collagen.
Collagen is a protein that gives structure to the skin and lips. Once a person reaches their 20s, it begins to deplete at a slow but steady rate. This causes the lips to lose volume and wrinkles to form on the skin.
Can Restylane treatments be used for lip augmentation?
The good news is that even though the loss of lip volume might be inevitable, there is a way to correct it without the need for surgery. An experienced plastic surgeon can administer injections to achieve lip augmentation that looks completely natural. Restylane Lyft, for example, is a dermal filler that uses hyaluronic acid to plump the lips. You'll see the full results from Restylane within a few days of your treatment, and the results will typically last up to 10 months. At that time, you may opt to repeat the treatment.
Another injectable option is Juvederm UltraPlus. Like Restylane, Juvederm uses hyaluronic acid to restore volume. The results are seen immediately after treatment and can last up to one year.
What is the PermaLip treatment?
Many patients prefer lip injections because they do not require surgery. However, the disadvantage is that the results are temporary. If you desire long-term results, consider talking to a plastic surgeon about PermaLip—it is the latest generation of implants. Unlike previous models, PermaLip is customizable, with different lengths, shapes, and sizes. This enables the plastic surgeon to select the perfect implant for a particular patient's lips. It also creates a more natural-looking result.
Furthermore, the procedure can be performed in the office, and it takes less than 30 minutes. Patients do not even need general anesthesia; a local anesthetic is all that's required. Most people take two to three days off work after a PermaLip procedure. Although most activities can be resumed quickly, it may take a few days for the swelling to completely subside.
Consult an NYC plastic surgeon about lip augmentation solutions
Dr. Thomas Loeb, a board-certified plastic surgeon in NYC, has over 30 years of clinical experience. He focuses on helping patients achieve their aesthetic goals while preserving a natural-looking appearance. He offers a full range of cosmetic enhancements, including lip augmentation. Call us today to request a virtual or in-person consultation.
Additional resources on plastic surgery:
Healthline, Restylane, and Juvederm Lip Fillers, https://www.healthline.com/health/restylane-vs-juvederm-lips
Byrdie, "I'm Only 28, and My Lips are Thinning!" Here's What to Do, https://www.byrdie.com/lip-thinning-treatment-4693426