5 Questions to Ask Yourself Before Having Plastic Surgery
Ava Lawson | December 14, 2016 | Posted in
Body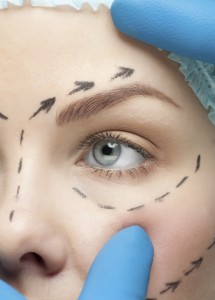 "As much as you want to love your inner self… I'm sorry, you also want to look good." This candid sentiment, recently shared by actress Kaley Cuoco, is undoubtedly felt by millions of people everywhere. The 31-year-old starlet has had her breasts, neck and nose surgically enhanced, and she loves to brag about the confidence-boosting results.
For years, we have been socialized to believe that cosmetic surgery was only for the vainest among us, but times are changing quickly. With negative stigmas a thing of the past, you no longer have to deal with a bulbous nose, asymmetrical breasts or a sagging belly after three childbirths. From Botox to liposuction to a full Mommy Makeover, plastic surgery can be a real game changer. But before going under the knife, it's important to do some soul searching and ask the following questions of yourself.
Why do you want cosmetic surgery?
Elective plastic surgery is purely that – elective. What do you hope to achieve? A smaller nose that creates better facial symmetry? A breast reduction to relieve chronic back and shoulder pain? Plastic surgery is a life-altering decision, but if done poorly, it can be one of your biggest regrets. While temporary injectables may plump up more than your lips, cosmetic enhancements aren't a cure-all for low self-esteem. Before scheduling a nip and tuck, be sure your motivations are healthy and that you're doing it for yourself.
Do you understand the risks?
Plastic surgery is never something to be taken lightly. Even so-called "lunch hour" treatments come with their fair share of risks. If you are considering going under the knife, ask your practitioner tons of questions until you have a full understanding of all potential risks. Some of the minimally invasive skin treatments may trigger swelling and bruising while anesthesia reactions, scarring, infection and blood clots are more serious risks of surgical procedures.
Are your motivations realistic and healthy?
Just because Kylie Jenner's lip augmentation looks beautiful doesn't mean you'll enjoy the same results. It may not always be realistic to demand the arms of Michelle Obama, Kate Middleton's perky nose, or Kim Kardashian's famously curvy derriere. Plastic surgery, while capable of delivering amazing, transformative results, is not a cookie cutter technique. Prospective patients should realize that surgery can only accomplish so much. If you want to look like someone else entirely, and are unhappy with yourself, plastic surgery is not the answer.
Can you commit to healthy lifestyle changes first?
In a perfect world, all plastic surgery patients will be in excellent mental and physical health before undergoing a procedure. This is vital to a successful outcome and proper healing. This means quitting smoking, getting to within 15-20 pounds of your ideal weight, and working with a counselor or psychologist to resolve any emotional issues beforehand. Adopting a healthy routine that includes a proper diet and regular exercise paves the way for shorter recovery times.
Have you researched your surgeon?
Plastic surgery is an immense field encompassing many types of body contouring, anti-aging and restorative procedures. When choosing a plastic surgeon, ensure that he or she is certified by the American Board of Plastic Surgery, and has an upstanding reputation. Ideally, your surgeon will have performed the procedure you intend to have hundreds of times, perfecting their skills. You also want to make sure you feel comfortable with your doctor. Do they listen to your concerns and answer all questions? Have you discussed the recovery period, and the costs incurred? Before scheduling an appointment, write down a check list of all points you want to discuss.
You can arrange a confidential consult with leading New York City plastic surgeon Dr. Thomas Loeb to find out which body contouring procedure may be right for you by calling his Fifth Avenue Manhattan office.